With 9000+ employees, Ubisoft wants to dominate open world games
Ubisoft wants to create 'great new IPS', and 'take advantage of open world growth' with its 9000+ employees.

Published Fri, Feb 19 2016 2:29 AM CST
|
Updated Tue, Nov 3 2020 12:01 PM CST
Ubisoft has had a tumultuous couple of years, with the completely botched launch of Watch Dogs, and we all know how bad Assassin's Creed has been for the last few years. But The Division is shaping up nicely, and while its graphics have been downgraded, it still looks great.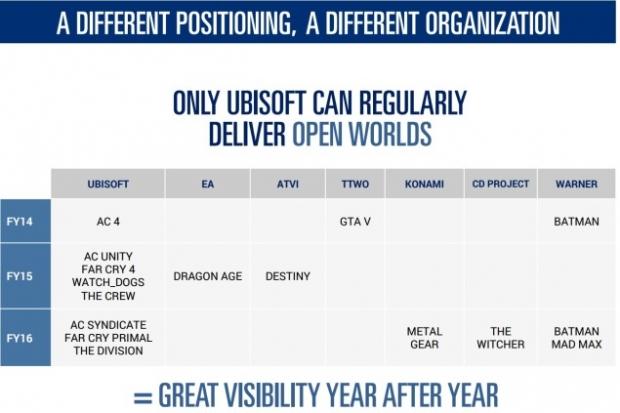 During Ubisoft's recent Investor Day, the company provided a bunch of slides and figures to its investors. The company has said that open world games are a major growth driver for the industry, saying that open world games have increased from 7% in fiscal year 2008 to 33% in fiscal year 2015. Ubisoft says that they're the only developer that can 'regularly deliver open world's', and with big IP like Assassin's Creed, Far Cry, and The Division - it's kinda true... kinda.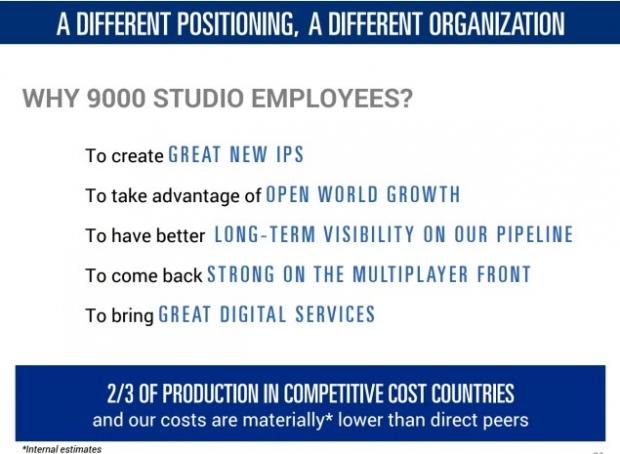 Ubisoft has a record 9000+ employees working for the company, something that allows them to bring open world games to market quicker than other developers (including many GB day one patches, broken games, watered down graphics, and so on). 2/3 of production takes place in competitive countries, with material costs estimated to be lower than direct peers.
Related Tags