If you're now diving head first into the lovely new world of USB 3.1 Type-C, SilverStone will be there at your side, recently announcing its EP05 Gigabit Ethernet and EP07 HDMI adapters for this new USB standard.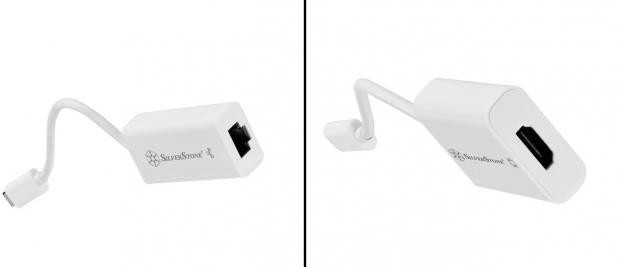 The EP05 adapter allows an adaption from USB Type-C to RJ45, enabling a Gigabit Ethernet connection, crossover detection, and Wake-on-LAN functions. Complete with an LED indication light, this product can be purchased for around $18.22 (16.50 Euro) and will be available in a few days' time. More information can be found here.
If your new monitor doesn't support a direct USB 3.1 Type-C connection, the EP07 HDMI adapter from SilverStone may interest you. Released with support for all HDMI versions up to 1.4, this product further features resolutions up to 3840x3160 @ 30Hz (when switched to the DP 1.2 alt mode) and per lane data rates of up to 5.4Gbps. Available for approximately $22.33 (20.10 Euro), this product also releases very soon and more information can be found here.