Epic Games develops a VR game while in VR
'You're editing VR in VR, so what you see is what users will experience. There's no question what your game looks like.'

Published Thu, Feb 4 2016 3:32 PM CST
|
Updated Tue, Nov 3 2020 12:01 PM CST
Virtual reality is poised to completely change our lives and shake up a number of industries. We've seen how VR can be used for tons of different applications, but what about games development? Thanks to Epic's new Unreal VR Engine, devs can now build games in fully immersive VR spaces. It's like VR-ception!
In a new video, Epic Games' Mike Fricker is seen developing a game in real-time while ensconced in a HTC Vive headset. Using the new Unreal Editor's VR mode, developers can literally create video game environments while standing in them, adding a whole new depth to content creation. The editor is rendered virtually in a VR environment and contains the full scope of utilities and tools as traditional 2D software, and devs will be able to use Oculus Rift motion controllers to mold and shape digital world's.
VR expert and Moor Insights and Strategy analyst Anshel Sag adds some perspective to the new Unreal VR Editor: "With this new tool, developers can finally preview their games as they are making them in VR and get a good idea of how things will feel for the gamer, immediately. I don't see someone building or finishing a game in this tool, but I do see someone making minor changes to a game with it and making it a part of the development phase."
Epic Games will show off the tech at GDC 2016 in March, and we'll be sure to relay the coverage when the show rolls around.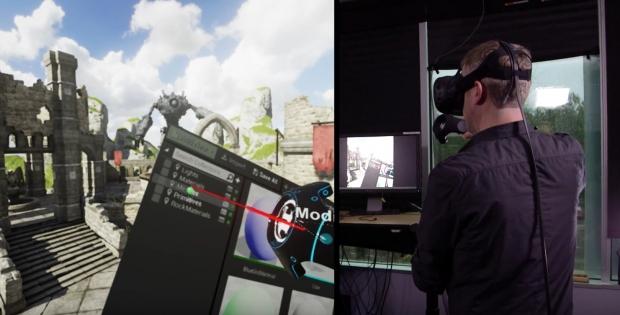 Related Tags