TP-Link's new tri-band WiGig router hits a top speed of 7.2Gbps
TP-Link's new router ushers in a new generation of ultra-fast networking thanks to the 60GHz WiGig standard.

Published Fri, Jan 8 2016 10:44 PM CST
|
Updated Tue, Nov 3 2020 12:02 PM CST
CES 2016 - TP-Link has unveiled the world's first 802.11ad router that leverages three bands for a total speed of up to 7.2Gbps.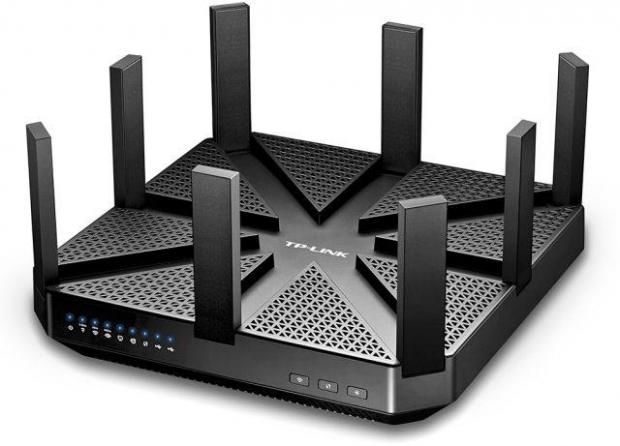 TP-Link's new Talon AD7200 router taps into the power of WiGig--the brand for Qualcomm's new 802.11ad standard--to deliver ultra-fast speeds. The Talon AD7200 sports a tri-band access point chipset that combines the monstrously-fast 60GHz WiGig with 802.11ac's 2.5GHz and 5GHz frequencies, totaling up to an insane speed of 7.2Gbps.
Although WiGig presents tremendous gains over traditional Wi-Fi, the new band can't penetrate walls and is limited to a single area. Luckily the Talon AD7200 will automatically switch over to the most efficient frequency at any given moment without interrupting tethered connections. So if you walk outside of WiGig's potent-but-limited range, the router will switch over to 802.11ac Wi-Fi without breaking a stride. The AD7200 also supports older frequencies including 802.11 a/b/g/n.
TP-Link's new router also sports some pretty beefy specs. The hub features an array of eight antennas with high-powered amplifiers that "supercharge" the Wi-Fi signal to ensure that all devices will stay connected at all times. A built-in 1.4GHz dual-core processor is nestled at the heart of the device. Plus it even has something called "dynamic beamforming" which shoots a targeted signal throughout the house, making for powerful downloads and transfers.
Speaking of downloads, the company says that the WiGig band can stream dense 4K UHD movies in minutes flat, as well as "instantly share thousands of files and photos over an interference-free connection." Two USB 3.0 ports can be found at the rear for easy content transfer, and the device can power up to eight simultaneous ethernet connections at the same time.
"TP-LINK remains focused on delivering ultra-high speeds, improved reliability and increased network capacity to the home," said TP-Link's executive VP Lewis Wu. "Our Talon AD7200 Multi-band Wi-Fi Router will catalyze the entire industry, bringing faster-than-ever Wi-Fi speeds to homes."
The AD7200 will be available in early 2016, but pricing has yet to be revealed.
Related Tags