Fallout 4: havoc ensues when 1,000 deathclaws battle 10 Liberty Primes
Yet another Fallout 4 monster battle shows how awesome the game's console commands really are.

Published Sun, Jan 3 2016 10:00 PM CST
|
Updated Tue, Nov 3 2020 12:02 PM CST
What happens when a massive flock of 1,000 deathclaws take on 10 hulking robotic behemoths? Chaos, of course!
The Brotherhood of Steel's massive Liberty Prime robots are pretty much like titanic suits of power armor, and as such they're regarded as the most destructive force in the Fallout universe. Well, besides maybe the fearsome monstrosities known as deathclaws. But who would win in a square go? YouTuber EZPlays aims to answer that question in his newest video, pitting 1,000 rancorous deathclaws against 10 Liberty Primes in a destructive battle scene that reminds us how great PC console commands really are.
If you'd like to set up your own Fallout 4 battles, we've put together a great step-by-step tutorial that will show you how to create epic monster showdowns with the game's console commands.
Using our guide, the possibilities are endless: you can have a free-for-all rumble with synths, deathclaws, Brotherhood of Steel paladins, super mutants, and every other NPC in the game. Plus you can even scale enemy sizes to make super teensy battles, or blow them up to house-sized terrors. Hell, you could even recreate the above battle sequence and make the Deathclaws just as tall as the Liberty Primes!
Creating your own battles is surprisingly easy, but be forewarned that having too many NPC's in any given area will lag the game pretty severely. The performance of these battles largely depends on your PC hardware, and I've noticed that my AMD Radeon HD 7970 will lag up with about 1,000 or so enemies in an area.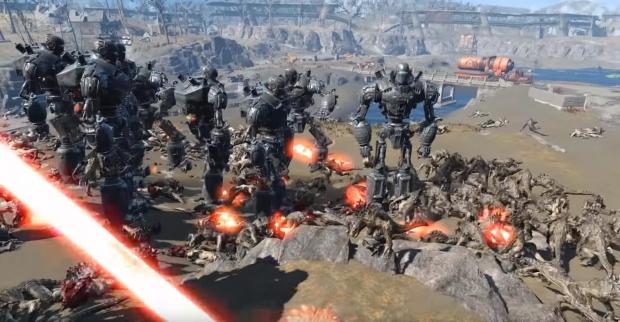 Related Tags