Raven's Cry dev: 'anything above 30FPS does not matter'
The developer of Vendetta - Curse of Raven's Cry says 'anything above 30FPS does not matter for the gaming experience'

Published Mon, Dec 28 2015 8:35 PM CST
|
Updated Tue, Nov 3 2020 12:02 PM CST
I wish I didn't have to write stories like this, but unfortunately, it just happens. Reality Pump Studios, the developer handling Vendetta: The Curse of Raven's Cry, says that anything above 30FPS doesn't add to the gaming experience.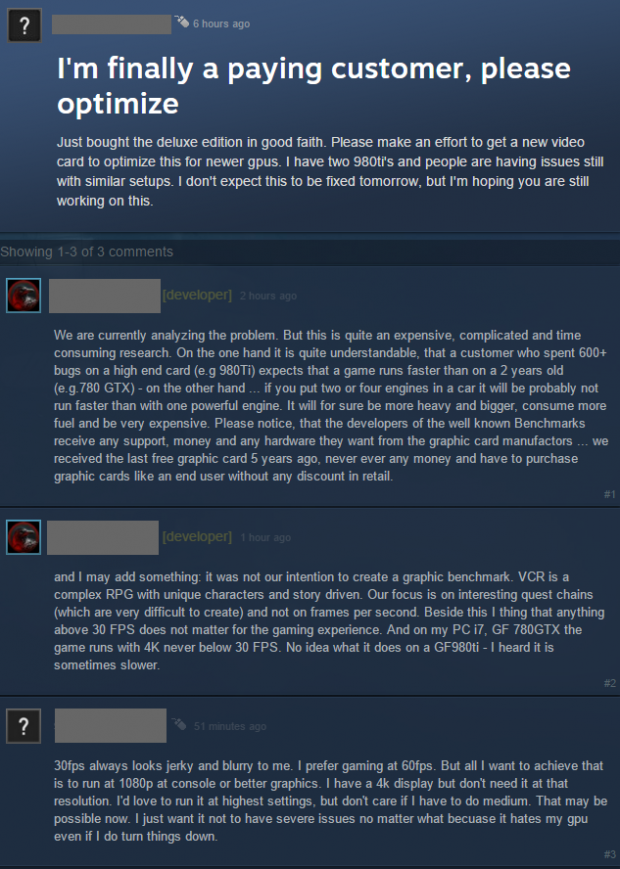 On the Steam forums, a fan asked if the studio would be optimizing its game to add SLI support - to which they replied: "On the one hand it is quite understandable, that a customer who spent 600+ bugs on a high-end card (e.g 980Ti) expects that a game runs faster than on a 2 years old (e.g.780 GTX) - on the other hand ... if you put two or four engines in a car it will be probably not run faster than with one powerful engine. It will for sure be more heavy and bigger, consume more fuel and be very expensive. Please notice, that the developers of the well known Benchmarks receive any support, money and any hardware they want from the video card manufactors ... we received the last free video card 5 years ago, never ever any money and have to purchase video cards like an end-user without any discount in retail".
It makes sense, as small studios don't receive much help in the way of hardware - but the next bit is the nail in the coffin for me. Raidor continued, adding: "And I may add something: it was not our intention to create a graphic benchmark. VCR is a complex RPG with unique characters and story driven. Our focus is on interesting quest chains (which are very difficult to create) and not on frames per second. Beside this I thing that anything above 30 FPS does not matter for the gaming experience. And on my PC i7, GF 780GTX the game runs with 4K never below 30 FPS. No idea what it does on a GF980ti â€" I heard it is sometimes slower".
For a studio named "Reality Pump Studios", they're not pumping much reality into their games if they think anything above 30FPS doesn't add to the gaming experience. Ugh.
Related Tags