Bungie sells Destiny level boosts for $30, infuriates player base
Bungie offers to level up your Guardians for $30, sparking a rift in the game's player community.

Published Tue, Dec 15 2015 5:29 PM CST
|
Updated Tue, Nov 3 2020 12:02 PM CST
Despite the assurances that Destiny's microtransactions wouldn't compromise the game, Bungie has introduced $30 add-ons that boost a player's level up to 25. So if you want to boost a Titan, Hunter and Warlock to level 25, that'll cost you an absolutely ridiculous $90.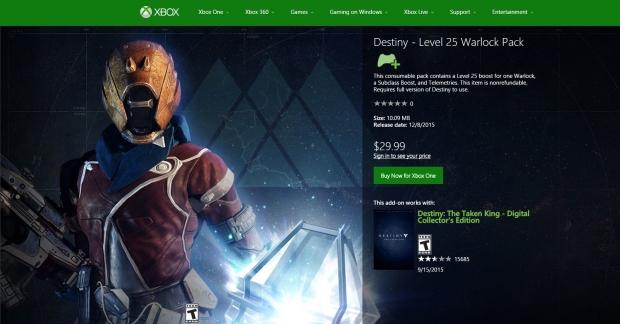 As soon as Bungie announced microtransactions were coming to Destiny, the game's entire player base cringed. Gamers know that allowing microtransactions is like opening Pandora's box, and they can eventually crush the credibility and fun of any game. Bungie jumped in to defend the move, saying that microtransactions were limited to cosmetic dance emotes and that there'd be no pay-to-win hijinks. That promise disarmed gamers, especially when they were told that the microtransactions would fund all future updates, meaning all of Destiny's DLC packs will now be free. So what's the downside?
Now we're starting to see the downside to microtransactions, and gamers are not happy. The item in question automatically levels up any given character to level 25, making it quite similar to the Spark of Light consumable that's given out for free with The Taken King DLC. The big deal comes with the item's asking price, which is an absurd $30. It's not enough that you can spend anywhere from $10 to $50 on microtransaction currency, but gamers now get charged $30 just to unlock the required level for The Taken King content? Ouch.
As you can imagine, gamers are not happy. "This feature is one that is completely ridiculous and seems like nothing more them a desperate grab for our money," says a disgruntled gamer. "If you pay money to boost your level in Destiny (or any game) you're effectively admitting the gameplay is bad," says another.
Any seasoned World of Warcraft players will recognize this tactic, as Blizzard offered to boost your character's level to 100 for a tidy sum of $60. Since Activision has merged with Blizzard, it's not surprising to see this carry over to Destiny.
Bear in mind that this feature isn't going to break the game. All it does is make someone pay $30 for the Spark of Light consumable, and it won't affect anyone else. The price point is rather awful, but gamers are more worried about what this will lead to, and whether or not Bungie will break their own promises. Also remember that these
Bungie has yet to make an official statement on Twitter or its website, but we might see something during this week's weekly update.
Related Tags