Any veteran Destiny player will tell you that Bungie's open-world social FPS still has its problems. Since it's started to rake in serious cash thanks to Destiny's new microtransactions, Bungie is planning to roll out free content updates in an effort to shore up the game's rough edges and give players enough new gear to keep them going.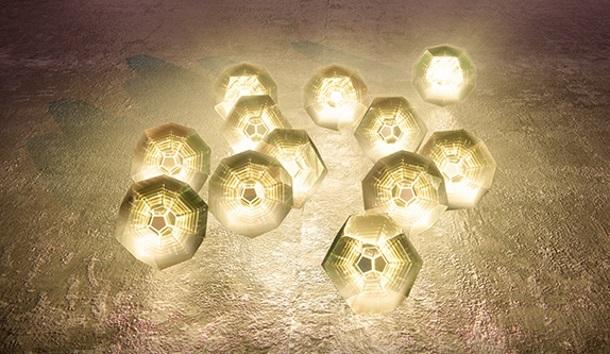 In a recent Weekly update, Bungie has revealed its plans for Destiny's immediate future. A new trove of exotics will be bestowed upon Guardians to fuel their interstellar firefights. The bad news is that not all of these "new" exotics will exactly be new, and it's not really a trove. Only two of them will be completely fresh whereas the others are upgraded Year One items like the recently revealed Mida Multi-Tool. Sadly we still don't have any stats for the upgraded Mida Multi-Tool, but Bungie promises that the gear will be scaled to be usable with level 40 characters.
Next up we have yet another weapon rebalance. That's right, the tired old scheme that creates the illusion of depth has returned. Destiny fans have had to re-acclimate themselves to the game many times now, with nearly every weapon "tune-up" phase making a good portion of our favorite weapons nearly useless. I'm all for balancing, except when it's used as a trick to create the illusion of change and "new" content.
Below we have a quick checklist on the known exotics coming to Destiny. Bear in mind these are just the Year One items, and the new Year Two gear is still unknown.
Year One
The Armamentarium

Nothing Manacles

Mida Multi-Tool

Dragon's Breath

Plan C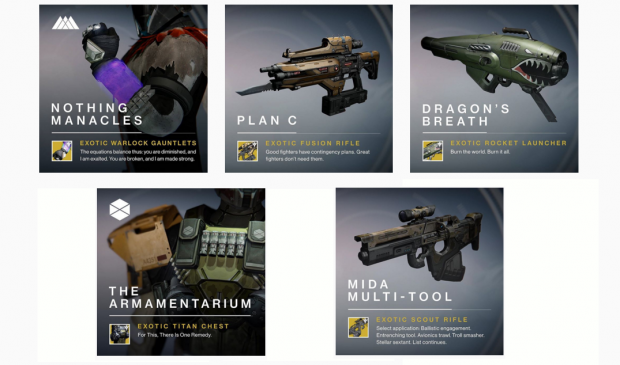 Still though, Bungie is doing all of this for free. Well, I should say "free" because a good portion of players are paying for it via microtransactions. I have to take a moment to thank the Guardians who take away from their hard-earned cash to buy dance poses and the like. You heroes are the ones that keep Destiny flowing. The old guard has given way to the new, and the world spins onward.
Our daily visits to Xur have shown just how little exotics are in the game. Destiny is in dire need of new, fresh weaponry, something to inject a little vigor and life into our grind. In many ways, the game feels like a kind of slot machine with exceptional FPS mechanics, rewarding you for patience, effort, and most importantly, time spent in the game.