Halo 5 isn't even two weeks old yet, and the community has already spent an insane amount of cash on the in-game microtransactions. 343 Industries has introduced players to a new kind of addiction, and it's paying dividends for the studio and Microsoft.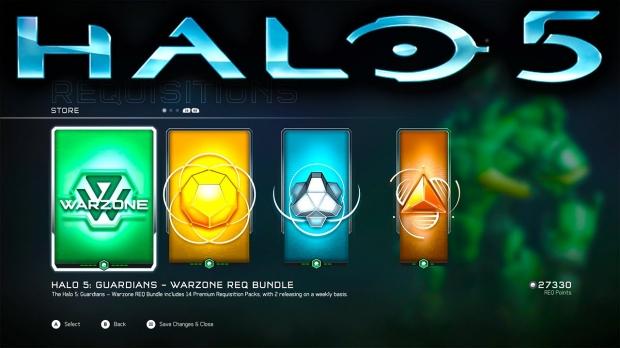 Microsoft has spent a lot of time tooting its own horn with Halo 5, touting that the game has "smashed records" to become the biggest Halo launch in history. Now 343 Industries has revealed a different kind of milestone, inadvertently announcing that Halo 5 players have shelled out no less than $500,000 in REQ pack purchases since the game launched.
"Earlier this year, we announced that the tournament prize pool would start at $1,000,000, and today, we're excited to announce that thanks to your REQ Pack crowdfunding, an additional $500,000 has already been added to the pool. This sets the current Halo World Championship prize pool at $1,500,000, and the total continues to grow each day."
343i says that it'll use the money earned from REQ pack purchases to help fund the Halo Championships prize pool. Plus the microtransactions open up the avenue for free DLC map packs for the lifespan of Halo 5, which 343 Industries promises it'll uphold.
Even still the prospect of microtransactions in a fully-fledged AAA game is quite daunting. Especially when it's such a huge flagship game for the Xbox brand. Personally I find Halo 5 to be a game that just simply leaves old Halo fans behind and caters to a new generation of gamers--especially since the game is missing so many integral parts of the Halo franchise.
Also, the REQ packs aren't just for cosmetics. You can use real in-game items to help sway control over Warzone matches. Sure 343i has put in a kind of weird waiting system to help "balance" things out, but the Pay2Win prospect is still there. What makes the REQ system even more ridiculous is how long it takes players to earn packs without spending money. The packs are based totally on random RNG rewards, meaning you might just keep getting things you already own each time.
In his Halo 5 review, Angry Joe did some quick calculations to reveal users will have to pay over $1,100 to get all of the cosmetic items--assuming, of course, you don't get any repeats. This figure also doesn't include vehicles or weapons.
1 REQ Gold Pack = 10,000 REQ points

900 REQ points earned per match

2 hours of gameplay = 1 Gold REQ pack

680 hours needed to unlock all cosmetics (if the packs don't give repeats)
If 343 Industries were able to rack up half a million dollars in little over a week, we could only imagine how much cash it'll earn with Halo 5's REQ packs. That's on top of the game's purported stellar sales. I just ask myself if Halo really needs to resort to these kinds of tactics to sell games. Do we need slot machines in our Halo games? Is this what people want to see? If so, the future of Halo looks pretty grim to say the least.