Latest Mercedes and BMW cars using 50% more fuel than lab results
The latest reports peg some of the newest Mercedes and BMW cars as using 50% more fuel than their lab results.

Published Tue, Sep 29 2015 11:28 AM CDT
|
Updated Tue, Nov 3 2020 12:03 PM CST
Volkswagen is at the heart of the biggest car fraud story ever, but the likes of Mercedes and BMW will soon be involved. According to the latest on-the-road results from Transport & Environment (T&E), some Mercedes A, C, and E class cars as well as BMW's latest 5 series and Peugeot 308 cars are using up to 50% more fuel than their lab test results.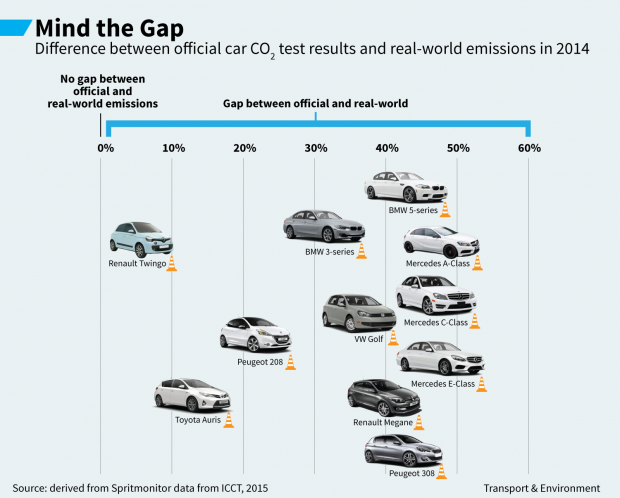 The problems that this is creating, is that the official numbers given by Volkswagen, Mercedes and BMW are different to the real-world performance numbers and this gap is becoming so wide that "it cannot be explained through known factors including test manipulations", reports Ademloos.be. Things have gotten worse in the last 15 years or so, where the official test results for CO2 emissions/fuel economy and real-world performance have increased from 8% in 2001 to a huge 40% on average for 2014.
The numbers are coming from T&E's 2015 Mind the Gap report, which takes a look at on-the-road fuel consumption by motorists and highlights what Volkswagen, Mercedes and BMW have been doing for years. These carmakers have been abusing the system, with EU regulators not closing the various loopholes that allow this to happen. T&E has added that without action, the gap will grow from 40% from 2014, to over 50% on average by 2020.
Even when you sink incredible sums of money into something like the new Mercedes A, C, and E class models - you're receiving a real-world difference of over 50%. The new BMW 5 series and Peugeot 308 are just under 50%. Greg Archer, Clean Vehicles Manager of T&E, said: "Like the air pollution test, the European system of testing cars to measure fuel economy and CO2 emissions is utterly discredited. The Volkswagen scandal was just the tip of the iceberg and what lies beneath is widespread abuse by carmakers of testing rules enabling cars to swallow more than 50% more fuel than is claimed".
The news gets worse, as within the last three years, there has been "no improvement in fuel economy from new vehicles on the road", reports Ademloos.be. They continue, adding that "Toyota would have met its 2015 target without exploiting test flexibilities whereas all the other major carmakers have met their legal limits through exploiting test loopholes".
Archer from T&E finished up by saying: "This widening gap casts more doubt on how carmakers trick their customers in Europe to produce much better fuel efficiency in tests than can be achieved on the road. The only solution is a comprehensive investigation into both air pollution and fuel economy tests and all car manufacturers to identify whether unfair and illegal practices, like defeat devices, may be in use. There must also be a comprehensive overhaul of the testing system".
Related Tags