Valve isn't excited over DX12, but talks up the Vulkan API
Valve isn't that interested in DX12, but it has big faith in the Vulkan API.

Published Wed, Sep 23 2015 1:37 AM CDT
|
Updated Tue, Nov 3 2020 12:03 PM CST
Valve was at SIGGRAPH this year, with Dan Ginsburg having some interesting things to say about the various APIs at their fingertips including DirectX 12 and Vulkan.
In the video above (1:40:01 into the video), Ginsberg says that Valve has been working with Vulkan since its inception, and that there's no big reasons for developers to use a DX12 backend in their games. Ginsberg adds that Vulkan is far superior than DX12 in various areas. He said: "Unless you are aggressive enough to be shipping a DX12 game this year, I would argue that there is really not much reason to ever create a DX12 back end for your game".
He added: "And the reason for that is that Vulkan will cover you on Windows 10 on the same class of hardware and so much more from all these other platforms and IHVs that we've heard from. Metal is single platform, single vendor, and Vulkan... we are gonna have support for not only Windows 10 but Windows 7, Windows 8 and Linux".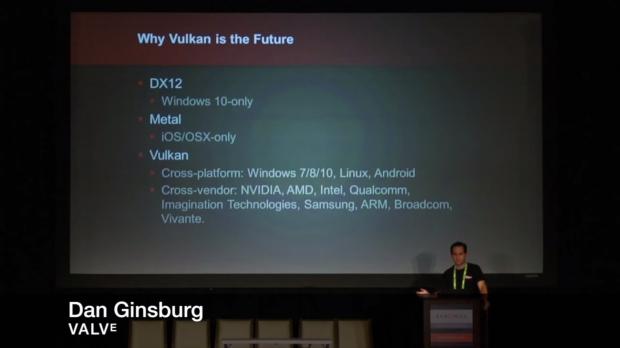 Related Tags