NVIDIA has come out with new recommendations for VR gaming on their GeForce video cards, with teh company recommending their Maxwell-based GeForce GTX 980 and GeForce GTX 980 Ti for VR gaming at 1920x1080 (1080p) at 90FPS.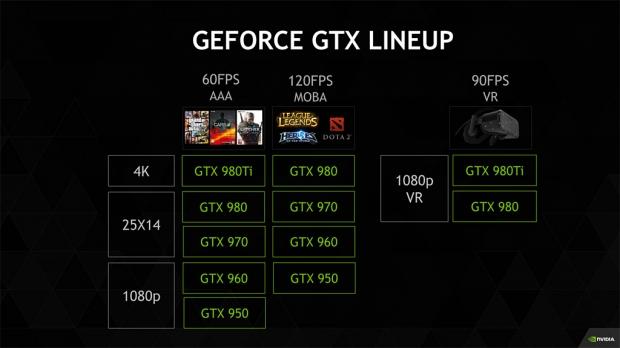 Not only is the company recommending the GTX 980 and GTX 980 Ti for VR gaming at 1080p 90FPS, but for 4K gaming at 60FPS on the latest AAA titles. The GTX 980 is capable of playing games at 1440p at 60FPS while the GTX 950 and GTX 960 are more than capable of running games at 1080p 60FPS. But when it comes to VR gaming, the GTX 980 and GTX 980 Ti are recommended for 1080p 90FPS.
The more we move into the new year, the more we're going to see VR headsets released with the HTC Vive due later this year, and the Oculus Rift released in the New Year. NVIDIA is right on top of it all, with a full product stack ready for VR gaming.