Only 34% of Steam users play games at 1080p, says Valve
Valve's monthly surveys prove that most Steam users don't have the latest and greatest in gaming tech.

Published Wed, Aug 12 2015 5:48 AM CDT
|
Updated Tue, Nov 3 2020 12:04 PM CST
Every month Valve conducts in-depth surveys to determine the most popular hardware and software solutions used by Steam gamers and compares them on a month-by-month basis. Last month's survey report reveals that most gamers are using stock hardware rather than high-performance rigs.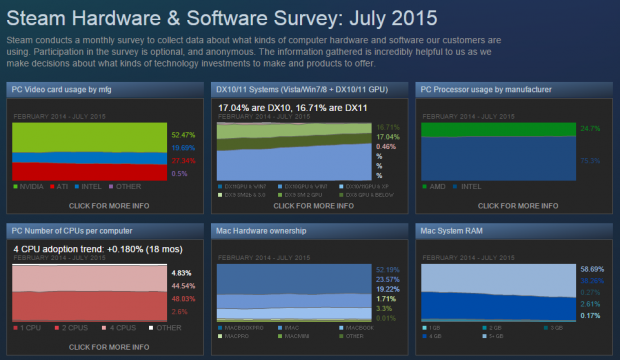 According to July 2015's hardware survey, only 34% of Steam users play at 1920x1080 resolution, with 26% running games at the laptop standard resolution of 1366x768. Out of the gamers that opt in for multi-display gaming, a full ~29% of these users run at 3840 x 1080 resolution.
When it comes to CPU's ~48% of Steam users run dual-core CPU's, with quad-core CPU's close behind at ~45%. The bulk of CPU clock speeds are between 2.3 GHz and 2.6Ghz, but the 3.3-3.69Ghz clock bracket is on the rise accounting for approximately ~16% of users. Intel CPU's predictably dominate with an inclusion rate of 75% versus AMD APU's at just a quarter of users.
Valve notes that most Steam gamers prefer NVIDIA cards over AMD, and DirectX 11 GPU's conquer the lesser DX10-supported cards. Other parameters prove to be pretty basic, with common specs like Windows 7 64-Bit, 8GB of RAM and 250-500 HDD's. Check below for a quick breakdown of Steam user hardware specs for July 2015.
OS Version: Windows 7 64 bit 44.91%
System RAM: 8 GB 31.07%
Intel CPU Speeds: 2.3 GHz to 2.69 GHz 21.60%
Physical CPUs: 2 cpus 48.26%
VRAM: 1024 MB 31.76%
Primary Display Resolution: 1920 x 1080 34.72%
Multi-Monitor Desktop Resolution: 3840 x 1080 28.90%
Language: English 47.85%
Free Hard Drive Space: 250 GB to 499 GB 26.46%
Total Hard Drive Space: 250 GB to 499 GB 31.95%
Related Tags