Intel's new 3D XPoint flash memory is 1,000 times faster than NAND
Intel and Micron reveal a new memory solution that will revolutionize higher-end data management.

Published Tue, Jul 28 2015 1:01 PM CDT
|
Updated Tue, Nov 3 2020 12:05 PM CST
Intel and Micron have began production of 3D XPoint flash memory, a new class of inexpensive high-density, high-performance flash memory that heralds a new age of performance for high-end data management.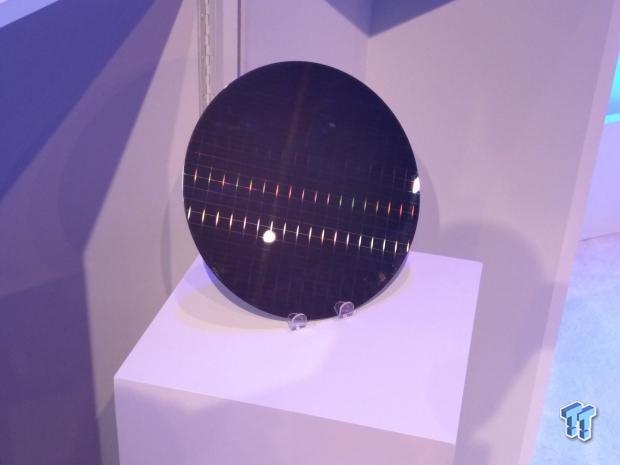 Intel's new 3D Xpoint class has been in development for over a decade and represents a breakthrough in next-generation storage solutions. 3D XPoint tech is 10 times more dense than standard memory, and Intel boasts that the new tech allows users to access data at "speeds previously impossible for non-volatile storage".
"For decades, the industry has searched for ways to reduce the lag time between the processor and data to allow much faster analysis," said Rob Crooke, exec Intel's Non-Volatile Memory Solutions Group. "This new class of non-volatile memory achieves this goal and brings game-changing performance to memory and storage solutions."
The new memory solution represents the union of DRAM's high speeds and the lower cost of NAND solutions. Performance wise, 3D XPoint is 1,000 times faster than NAND with a standard 10X performance increase over NAND in PCIe NVMe interfaces. 3D XPoint also sports an increased durability of 1000X traditional non-volatile flash memory.
Intel and Micron are able to reach these figures with the memory's new unique architecture, which is built on an innovative transistor-less crosspoint framework that leads to significantly faster read/write processes and reduced latency. As far as actual storage capacity goes, a single 3D Xpoint die can hold 128GB worth of data, potentially leading to the optimization of rather massive data sets.
"One of the most significant hurdles in modern computing is the time it takes the processor to reach data on long-term storage," Micron's President Mark Adams iterated. "This new class of non-volatile memory is a revolutionary technology that allows for quick access to enormous data sets and enables entirely new applications."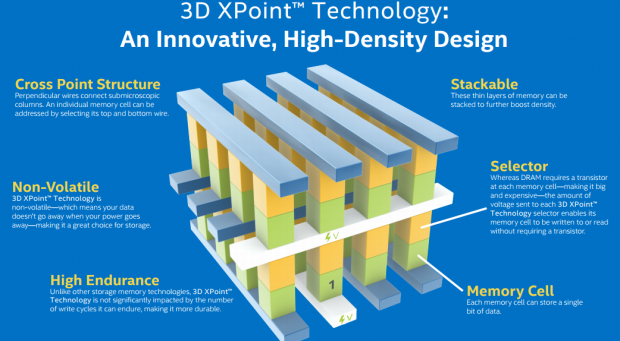 Related Tags