Modder runs Half-Life on an Android smartwatch
A modder shows off the versatility of Android by finding a way to run Half-Life on a smartwatch.

Published Fri, Jul 24 2015 9:06 PM CDT
|
Updated Tue, Nov 3 2020 12:05 PM CST
Tech modding expert Dave Bennett is a kind of emulation wizard who is responsible for many improbable wonders like running PlayStation 2 games on a smartphone as well as playing Valve's epic puzzler Portal on Android. Bennett's latest achievement let's you play Half-Life on a smartwatch. Not that most of us would ever want to play Valve's epic FPS on a smartwatch, but it's still a pretty impressive spectacle nonetheless.
According to the modder, the SDLash3D app is able to emulate Valve's old-school GoldSource game engine that powered classic titles like Team Fortress Classic (which is also playable on Android). While working on making Half-Life run on a phone, on a lark Bennett tried it on his Android Wear-powered LG G smartwatch.
And it worked. As you can see for yourself in the video, Half-Life's unforgettable monorail scene starts up and runs on the tiny 1.65-inch screen. The framerates flux anywhere from 2FPS to an impressive 30FPS, and of course, the game is practically unplayable in itself, but it only goes to show you how versatile Android really is.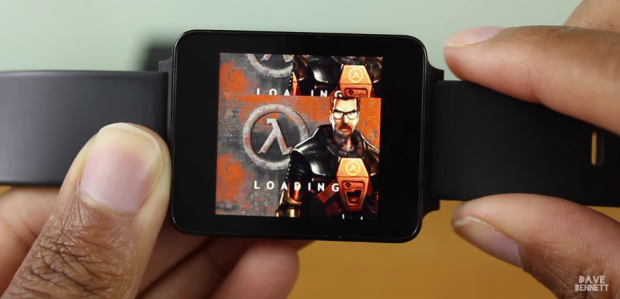 "Surprisingly, the performance was not as bad as I was expecting," Bennett said. "At times, the game got as high as 30fps and other times as low as 2 fps. Of course, things such as the lava graphics and special lightening caused a huge drop in fps. Also, trying to play a game on Android wear is a nightmare within itself. The app offers touchscreen controls, but on a 1.65 inch screen, they are almost impossible to use."
If you want to emulate Bennett's emulation, check out the step-by-step tutorial.
Related Tags