AMD: 'Evolution of GPU horsepower' very important for 4K and beyond
AMD notes that an increase in GPU horsepower is required as 4K gaming is pushed more and more.

Published Sat, Jan 31 2015 5:57 PM CST
|
Updated Tue, Nov 3 2020 12:10 PM CST
Just how is 4K gaming affecting AMD internally right now? According to Robert Hallock who is part of the Technical Communications division for AMD Radeon graphics, he said that gamers are adopting 4K gaming nicely, but the R&D department for AMD is already planning for the future.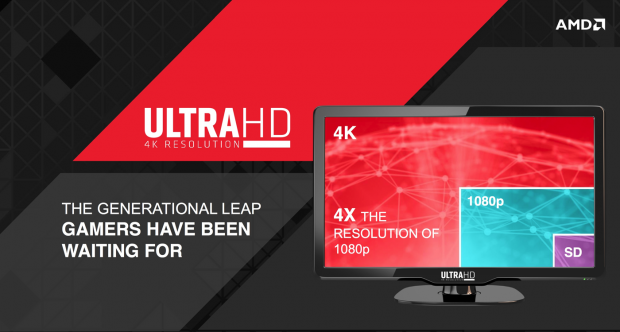 For Hallock, the Radeon R9 290X was a major step in that direction, allowing for gamers to play at 4K with a single GPU. Lower-end parts of the market aren't quite there yet, so GamingBolt asked him some questions where he replied with the future of 4K gaming is an evolution of GPU horsepower, which is something AMD is working on. He said: "If you think back to the launch of the AMD Radeon R9 290X, our video card marked arguably the first time anyone could reasonably expect to play games at 4K on a single GPU. Sure, there were some games that needed two for peak image quality, but one was and is pretty solid for the majority of titles. We were also the first company to offer full support for 4K SST displays in our driver".
"4K adoption is very popular amongst the elite enthusiasts, but understandably slower being adopted in lower-end segments. I couldn't characterize the rates with hard numbers as that's not my area of expertise, but this is the sense I'm getting from interacting with the AMD community every day", he continued. Hallock added: "Ultimately, the evolution of GPU horsepower is the biggest factor in driving 4K forward. Graphics being such an important part of our business, of course, you can count on great progress on that front as the years wind on".
Related Tags