Nintendo has sold a total of 9.2 million Wii U consoles
Nintendo has sold over 9.2 million Wii U consoles, over 52 million software units.

Published Wed, Jan 28 2015 7:18 PM CST
|
Updated Tue, Nov 3 2020 12:10 PM CST
Nintendo has posted its latest financial report, where we can see just how successful its consoles and handhelds are. Starting with the New 3DS, it has helped Nintendo push the "3DS family" over the 50 million mark.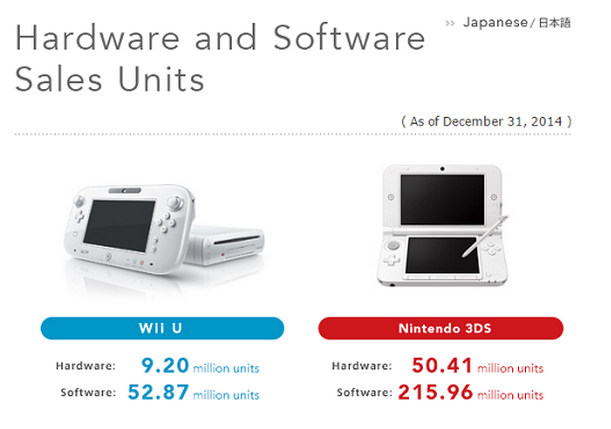 This is all while the New 3DS hasn't even launched in the United States or Europe, with these sales scooting along in Japan and Australia for now. When it comes to the Wii U console, Nintendo pushed 1.91 million units during the holiday quarter, while Wii U sales are sitting at a total of 9.2 million systems. Wii U software sales are sitting at 52.87 million.
Mario Kart 8 and Super Smash Bros. were big sellers for Nintendo across 2014, with Mario Kart 8 selling 4.77 million units while Super Smash Bros. sold a nice 3.39 million units. In total, New Super Smash Bros. had sold 4.16 million units.
Related Tags