We demand better graphics and more immersive gameplay, but that comes at a cost. As video games progress the amount of storage they require is exploding. Some current games can chew up to 40GB each, and this can grow even more with DLC. Nyko has the bases covered with a new innovative enclosure that snaps onto the top of the PS4. The internal PS4 drive is limited by capacity, and users can upgrade it, but it requires a 2.5" drive. These are limited in capacity, and higher in cost, compared to their larger 3.5" brethren.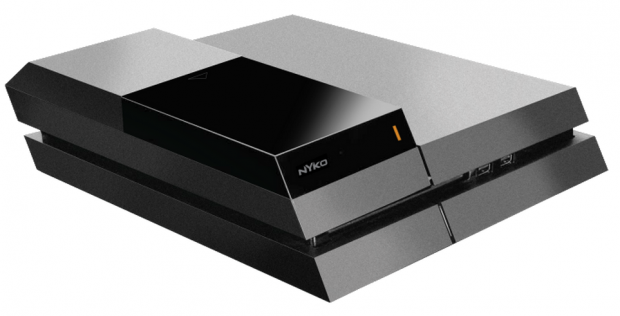 The Data Bank supports 3.5" drives, which can be between $40-$50 cheaper than 2.5" models. 3.5" drives currently top out at 6TB for consumer models, and heftier capacities are on the horizon. The Nyko Data Bank will retail between $30 and $40 when it is released. The Nyko Data Bank snaps to the top of the PS4 and is connected via a pass-through power cable on the rear of the unit. The design mimics the PS4's aesthetics, but it does add a large component to the top of the console.
6TB might seem a bit over the top for most PS4 users, but after a few years data begins to pile up. If the lifespan of the PS4 is as long as the PS3, there will be a need for additional capacity at some point. Those with large media libraries will also find the Data Bank useful. With todays game consoles geared to be the hub of the home entertainment center it is surprising they still stick with capacity-limited 2.5" drives, but this is likely driven by size constraints more than any other consideration.