OWC announce updates to their Mercury Helios PCIe Thunderbolt chassis
OWC update their PCIe expansion chassis with Thunderbolt 2 - enabling 20 Gb/s performance.
Published Mon, Jan 5 2015 8:35 PM CST
|
Updated Tue, Nov 3 2020 12:11 PM CST
OWC's Mercury Helios PCIe Thunderbolt Expansion Chassis has been released for some time now, however to ensure they keep up with the latest in technology, an updated Thunderbolt 2 capable chassis has been released.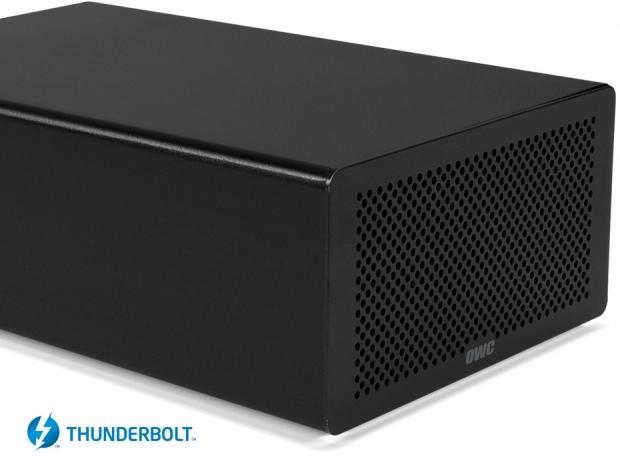 Thanks to this advancement, a 20 Gb/s throughput can be handled, doubling on the old 10Gb/s available with the original Thunderbolt offering. This expansion chassis is described by OWC as "the ideal solution for using half-length professional-level PCIe 2.0 cards with Apple's entire line of Thunderbolt enabled Macs that do not have PCIe slots due to size or design limitations" as according to their newly issued press release.
Coming in at a price of $299.00, the full list of features reads:
Use any half-length, single or double-width, full-height x1, x4, x8, or x16 Thunderbolt-capable and AHCI-compliant PCIe card

Expansion slots: One PCIe 2.0 x16 (x4 mode)

Connection interfaces: Two Thunderbolt 2 ports

Daisy-chain up to five additional Thunderbolt devices

Bootable with AHCI-compliant cards

External case dimensions: 5.7 in (W) x 9.17 in (D) x 2.9 in (H)

Weight (without PCIe Card): 3.85 lbs

Variable-speed fan for quiet cooling

Automatically powers on/off with computer

3-year Limited Warranty

Compatible with any computer that can support Thunderbolt technology
Larry O'Connor is OWC's founder and CEO, he's explained exactly why this new Thunderbolt technology is necessary for consumers "With the upgrade to Thunderbolt 2, we've doubled the performance of the Mercury Helios and enabled Thunderbolt-equipped computers that do not have PCIe slots to tap into the power of PCIe cards and experience capabilities that were previously unattainable. It's a low-cost solution for achieving performance that rivals high-end workstations in a device that isn't much bigger than an external hard drive."
This product is available immediately through the Macsales online shop.
Related Tags