NVIDIA's new Tegra X1 chip thrashes the Xbox One
NVIDIA eyes off Microsoft with its new Tegra X1, teasing that it delivers a "console experience" with "mobile power"

Published Mon, Jan 5 2015 1:25 AM CST
|
Updated Tue, Nov 3 2020 12:11 PM CST
CES 2015 - NVIDIA just took the veil off of their new mobile powerhouse system-on-chip (SoC), the new Tegra X1, which looks like it could be a serious contender for the Qualcomm Snapdragon 810, and many others coming out this year.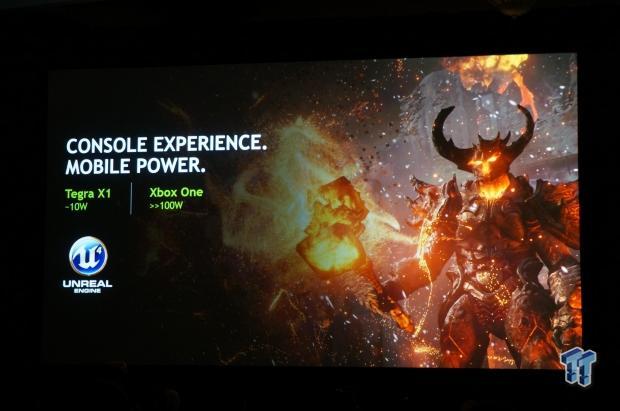 But one of the best slides NVIDIA chucked up at their CES 2015 press conference, was that the new Tegra X1 processor delivers a "console experience" with "mobile power". NVIDIA provided some power details on the new Maxwell-based Tegra X1, which consumes 10W of power compared to the Xbox One which uses far more than 100W.
This is a good point for NVIDIA to push, considering the new Tegra X1 is capable of 4K at 60FPS... where will we be at CES 2016? CES 2017? Consoles simply can't keep up, and it's great to see NVIDIA using it as a reference. A large console, versus a tiny little SoC that runs on a battery.
Related Tags