Uber raises prices during the Sydney hostage ordeal then backpedaled
Uber responds to a hostage situation by raising their local minimum fee by "4.0X the normal rate" then backpedal after negative press and public outrage.
Published Mon, Dec 15 2014 5:05 AM CST
|
Updated Tue, Nov 3 2020 12:12 PM CST
Early this morning, local time, news was spread by the mainstream media on a hostage siege taking place in Sydney's inner CBD involving 'Muslim Extremists' laying claim to an unknown number of hostages. If you're unaware of what's going on, one of the reputable news sources covering this unfortunate news (News.com.au) released a very simply laid out 'what we know' on the matter.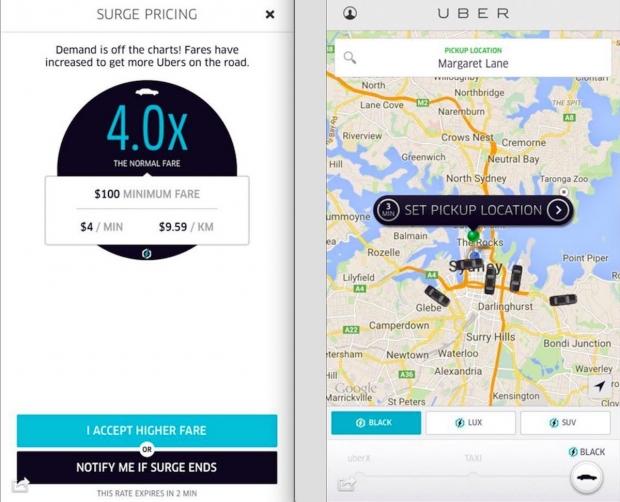 In light of local business evacuations and people rushing away from this threat, users began noticing that popular rideshare app Uber was charging users around the CBD a $100 AU to flee safely to their homes, this is said to be a "result of automatic surge pricing meant to get more drivers online" as according to News.com.au.
Mashable first reported on this issue, being sent screenshots of Uber's iOS application charging a $4/minute, $9.59/KM, $100 minimum cost, being clearly labeled in bold writing as "4.0X the normal fare".
The man sending these screenshots is a Sydney CBD worker named Matthew Leung, he stated that "I have never, ever seen it at four-times [the normal rate] and I'm a 1% top Uber user," further commenting that "I understand the way the business works - higher the demand, higher the charge - but four-times at $100 minimum is ridiculous. Almost price gouging at its worst."
This enraged many local and international rideshare regulars, with multiple posts on social media claiming boycotts and un-installation of the application. This negative press coupled with the original Mashable article and saw Uber crumble under the pressure.
As announced on their official Sydney Twitter page, they made a move to ensure all Sydneysiders could easily escape the central city without hurting their wallet.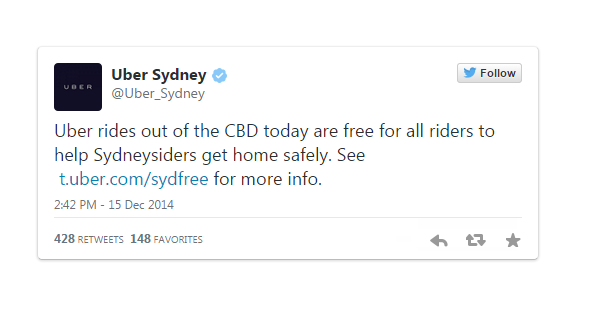 Unfortunately for Uber, most of the damage is already done. It's going to be an interesting few months as we'll see if these users boycotting are en masse and if they're able to resist the urge to re-install the application once this fiasco is no longer fresh in their minds.
Related Tags