The world of NVMe is expanding at a rapid clip. More devices are becoming certified every week that support the optimized register interface, which radically boosts performance with non-volatile memory devices of all flavors. As outlined in our Defining NVMe Article, NVMe delivers on its promises and has the potential to revolutionize how we address flash storage.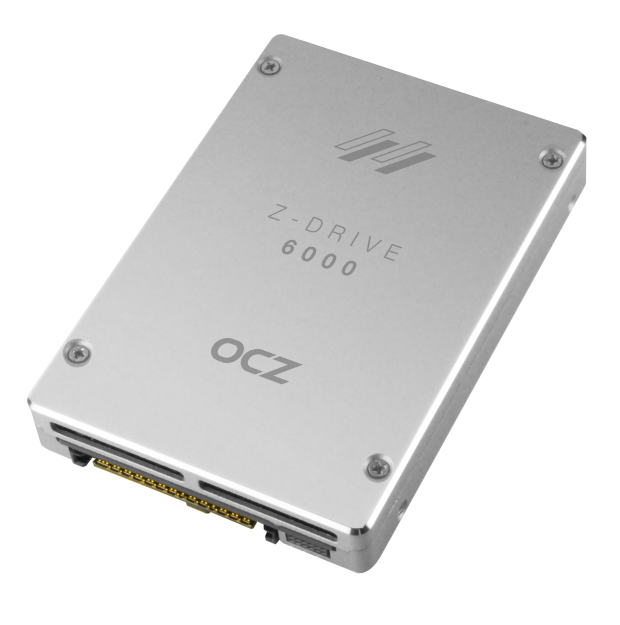 OCZ Storage Solutions, a Toshiba Group Company, joins the fray with the new Z-Drive 6000. The Z-Drive 6000 is a high-performance datacenter SSD that features a PCIe 3.0 connection in a 2.5" enclosure. This is made possible by the SFF-8639 connector, which brings front-bay access and serviceability to PCIe connection. Obtaining the NVMe 1.1b certification from the UNH-IOL interoperability lab guarantees that the Z-Drive 6000 is fully functional and NVMe compliant. Many of the current shipping NVMe products are compliant with older versions of the NVMe specification, and new features with NVMe 1.1b offer enhanced compatibility and capabilities.
OCZ is flush with flash now that they are part of the larger Toshiba conglomerate, and this affords them access to advanced engineering and the ability to offer more competitively priced products. The SSD is powered by the popular PMC Princeton controller, which has recently made a trip through our labs, and leverages OCZ-proprietary firmware optimizations. The Z-Drive 6000 touts whopping capacities up to 6.4TB and rumored performance north of 3GB/s, which should satiate the needs of even the most demanding users. The Z-Drive 6000 is currently shipping to selected customers, and general availability is slated for early 2015.
As always, head over to our IT/Datacenter section for the latest in competitive performance analysis of the leading enterprise storage products, including 2.5" PCIe SSDs.