Surrounded by a Steam-like frenzy, Australian game and accessory retailer EB Games has launched their 'Mad Monday' sales to a mixed reception.

Offering up some crazy discounts like last-gen consoles including the PS3 for $198 AUD with 8 pre-owned games, all the way to a massive $70 AUD discount on one model of Audio-Technica headphones throughout their one day sale, set to help you kick off your working week.
Overall these discounts were quite hefty and seemingly widespread through many different products, however there are quite a few consumers who aren't exactly pleased with the 'crazy deals' that EB Games have on offer. Taking a look through their #MadMonday trend on Twitter, some of these 'deals' aren't really deals at all.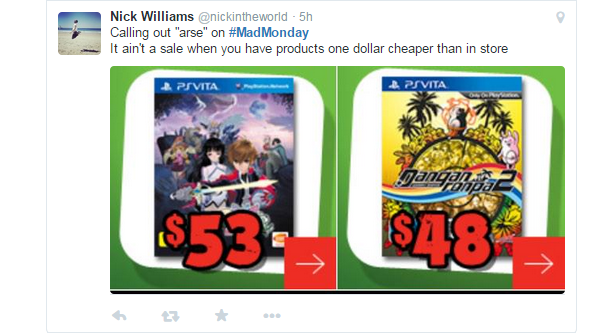 This is followed up by a personal Facebook friend of mine, who stated: "EB Games Mad Monday sale; mad you stayed up for prices worse than JB HI-FI (Aussie electronics retailer) normal catalogs". Obviously there were quite a few good deals as we listed previously, but there is also a large amount of 'filler' thrown into this gigantic sale. Could this be due to EB Games losing their touch, retailers in Australia experiencing a downturn or simply a very smart marketing campaign run by their HQ to produce maximum hype?
We're not exactly sure on the sale specifics, but if you're interested in picking up some deals for yourself, you can do so through their online portal. unfortunately there are no in-store purchases available for this campaign.