GTA V will offer first-person mode on foot, and in vehicles on PC
Rockstar Games teases first-person mode for next-gen version of Grand Theft Auto V, hitting PCs in January 2015.

Published Mon, Sep 22 2014 6:52 PM CDT
|
Updated Tue, Nov 3 2020 12:14 PM CST
Rockstar Games had a support article on their website, which has since been ripped away, teasing some new features for the new version of Grand Theft Auto V coming to the Xbox One, PS4 and PC. One of these features was something never-before-seen, a first-person mode for both on foot and vehicles.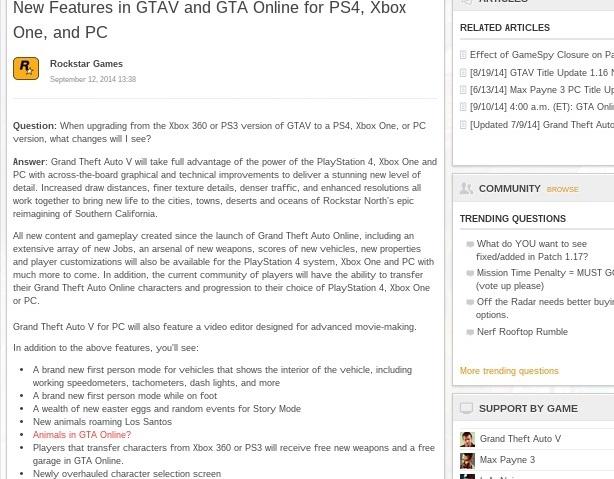 The full list included: "a brand new first person mode for vehicles" something that "shows off the interior of the vehicle, including working speedometers, tachometers, dash lights and more". This is a big, big change, as GTA V has countless vehicles that the developer would need to re-work the internals of. Better yet, Rockstar teased that there would be "a brand new first person mode while on foot" which changes the game, completely. A first-person mode on foot would propel Grand Theft Auto V to completely new heights, especially with the precision offered on a mouse for the PC.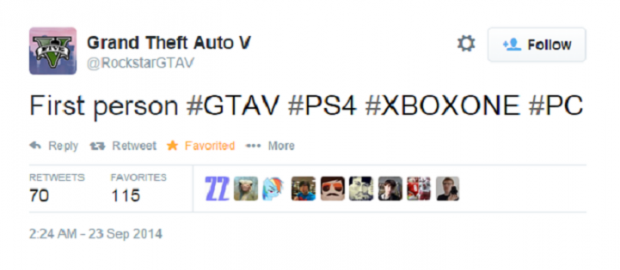 The news was confirmed just today, with the RockstarGTAV account on Twitter teasing "First person #GTA V #PS4 #XBOXONE #PC". Other new features for the upcoming re-release include "a wealth of new easter eggs and random events for Story Mode", possible animals roaming Los Santos, player transfers from the Xbox 360 and PS3 releases of GTA V offering free new weapons and a free garage in GTA Online, and a "newly overhauled character selection screen".
Related Tags