AMD teams with Synopsys IP for 14/16nm APU/GPU products, teases 10nm
AMD partners up with Synopsys IP, pushing toward 14/16nm APU and GPU designs, as well as future 10nm APU/GPU products.

Published Sun, Sep 21 2014 12:47 AM CDT
|
Updated Tue, Nov 3 2020 12:14 PM CST
AMD has announced a new multi-year agreement with Synopsys IP that will see the chipmaker receiving a slew of Synopsys DesignWare intellectual property on its advanced 16/14nm technologies, as well as its upcoming 10nm FinFET technology. AMD will be handing over specific IP and engineering resources to the company. Considering NVIDIA just catapulted it's more-than-impressive GeForce GTX 900 series, there's never been a better time for AMD to partner up with someone who can handle the move to smaller processes.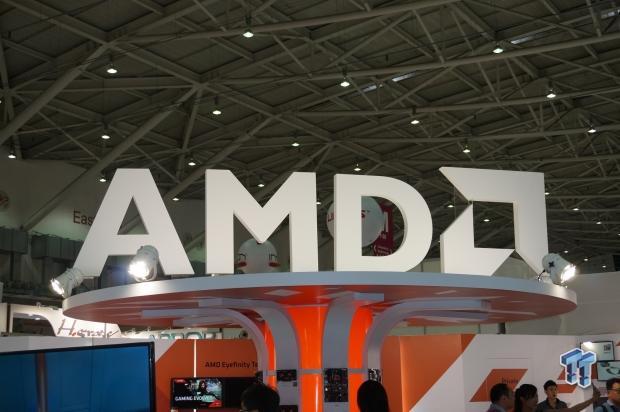 The agreement sees AMD securing interface, memory compiler, logic library and analog IP from Synopsys, where it will use these technologies to create future generations of its chips on the 14nm and 16nm FinFET manufacturing process, eventually moving onto the 10nm process down the track. Synopsys will reportedly hire around 150 of AMD's IP & R&D engineers and receive access to AMD's leading interface and foundation IP. AMD will be saving money with this deal, but provides some holes in its resources, while Synopsys is only gaining from this deal.
If you've never heard of Synopsys, they are a leading power in silicon-proven IP for advance process technologies, with the company helping chip designers on a broad range of high-end IP for integration into system-on-chips, or SoCs, as well as delivering expert technical support. This power allows companies like AMD to come to them, in order to save money on pumping into their own R&D. But, AMD still packs a punch when it comes to the complex IP used in advanced microprocessors and GPUs. AMD will gain silicon-proven IP for its chips over the coming years, while handing over interface and foundation IP, as well as engineers to Synopsys, something the company explains will give it the ability to "focus its valuable engineering resources on its ongoing product differentiation and IP reuse strategy".
AMD's senior VIP and CTO, Mark Papermaster, talked about the deal with Synopsys, where he said: "Today's announcement aligns with AMD's continuing IP development strategy to focus our internal teams on designing the innovative 64-bit processor, graphics and peripheral IP that forms the foundation for our competitive differentiation, while leveraging Synopsys, the industry leader for cost-effective development of complementary standard IP components, for our future SoCs. We have partnered with Synopsys for tools and IP for more than a decade, and this expanded relationship is a great example of leveraging high-quality, standard IP for cost-effective reuse across multiple solutions".
Related Tags