HGST announces extension of JDA with Intel
HGST announces the extension of their JDA with Intel, which also provides a measure of guaranteed NAND supply for HGST.
Published Mon, Sep 15 2014 3:12 PM CDT
|
Updated Tue, Nov 3 2020 12:14 PM CST
HGST Press and Industry Analyst Briefing - HGST has announced the extension of their fruitful Joint Development Agreement (JDA) with Intel for their SAS SSDs. This is an important agreement due to the sharing of important NAND and engineering expertise. The JDA also affords HGST with a guaranteed NAND flash supply for HGST's SAS SSDs, a paramount need in today's SSD market. The details of the arrangement aren't entirely public, of course, but we do know that both HGST and Intel have already leveraged the existing relationship to develop the fastest SAS SSDs on the market.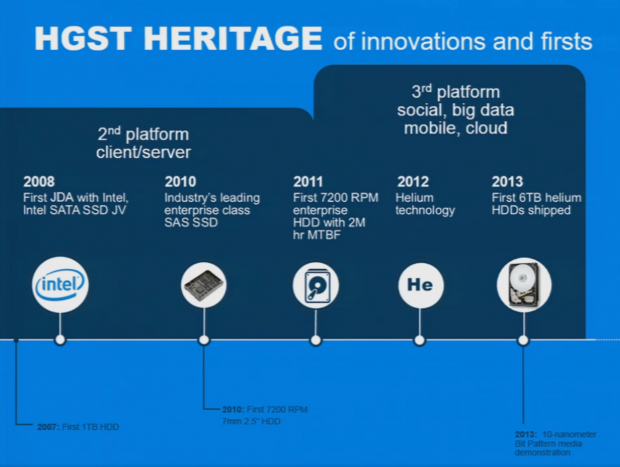 The JDA began in 2008, and HGST first began to offer SAS SSDs in 2010. Intel flash and controller technology has provided the base components, but the real engine lies in HGST's SAS design, firmware, reliability, qualification and system integration. Intel does not sell SAS SSDs, instead relying upon the JDA with HGST to provide high-quality SAS offerings. The cooperation has led to four generations of successful SAS SSDs. The agreement is slated to continue for three more years, and we look forward to seeing the exciting new products that will come as a result of the JDA.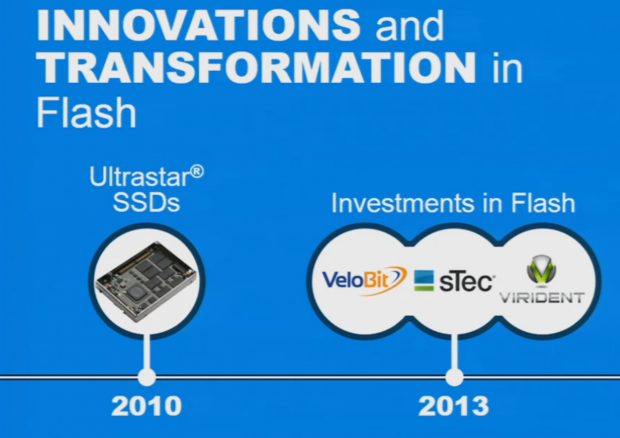 HGST is a wholly owned and independently operated subsidiary of Western Digital Corporation, but is rapidly shaping up to be the flash arm of WD. Strategic acquisitions of Velobit, STEC, and Virident have allowed HGST to expand their portfolio rapidly in terms of both hardware and software patent portfolios and expertise. HGST has sent the clear message that they believe software is a key differentiator that will provide them a competitive advantage over their rivals. Coupling this vision with the extension of a cooperative agreement with Intel provides a solid footing as they move forward with innovate solutions for the datacenter.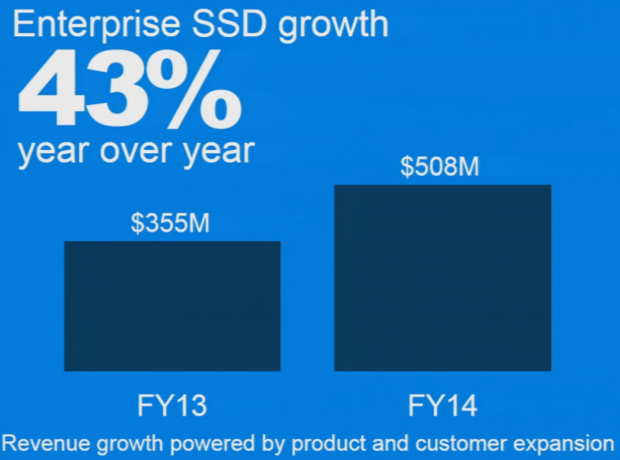 The fruits of the JDA with Intel will be marketed and sold exclusively by HGST, rounding out their broad and expanding product and patent portfolio. HGST has made the bold decision to grow either at, or faster, than the overall SSD market, and the above results speak for themselves. HGST has managed to post a whopping 43% revenue growth year-over-year, which is made all the more impressive by their leading position in SAS SSDs. Its always easy to post huge year-over-year numbers if the company has a small footprint to begin with, but attaining this massive expansion from a market-leading position is quite the feat. HGST isn't satisfied setting on their laurels either, a broad range of new announcements will help them to expand their addressable market in the foreseeable future. All told, the companies products always speak for themselves, and for a detailed look at several HGST enterprise products visit our IT/Datacenter section, where we have a library of competitive performance analysis of HGST and other leading manufacturers products.
Related Tags