Alphacool announces a new GPU Cooler customization service
Water-cooling a nonreference GPU with a full coverage block has been impossible for years now, but Alphacool is looking to change that with its new service.
Published Tue, Apr 29 2014 12:56 PM CDT
|
Updated Tue, Nov 3 2020 12:17 PM CST
Today Alphacool announced a new GPU cooling solution that will see non-reference video cards included in its lineup instead of being left out as tradition dictates. The new custom GPU coolers are part of a new service Alphacool is offering that is based around a new three-part full-coverage GPU block that is designed to be completely modular, making it easier to custom cool any video card.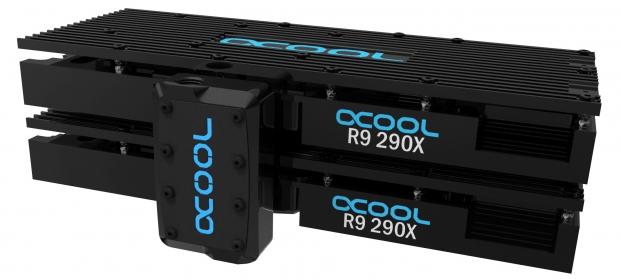 "Until recently the high cost of developing specialized full cover watercooling blocks has forced manufacturers to focus only on producing blocks for the higher-end cards. With new patented technology Alphacool have the ability to fill this gap in the market by producing full cover water-blocks for any non-reference or lower-end video card," Alphacool said in a release. "The cooler comprises of three parts shown in the image below. Firstly the water-block is designed around the 'core only' concept but is used in conjunction with the custom made base plate that is made specifically for each type of GPU ensuring the perfect fit. A custom made back plate is also included in the package at no extra cost."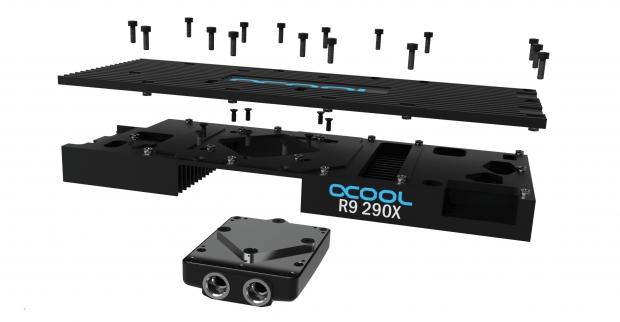 Alphacool says that the new cooler has been designed to work universally, and will only require a plate upgrade when switching to a new GPU. The company has plans to launch a full coverage water-block line for AMD's new Radeon 200 series and NVIDIA's GeForce GTX 700 series. Customers wishing to water-cool non-reference cards can send their card into Alphacool and have a custom plate made to fit that will work with the new universal GPU cooling block. This cooler will then be added to Alphacool's lineup so that customers with the same non-reference card can purchase a full coverage block.
Related Tags