Finding interesting news stories on Facebook has become increasingly hard to do over the last few years, and that is mainly due to the dilution of the news feed caused by so many useless and noninformative pages. Today Facebook launched a new service that is aimed at making it much easier to find what news stories are trending on the service, and it's called FB NewsWire.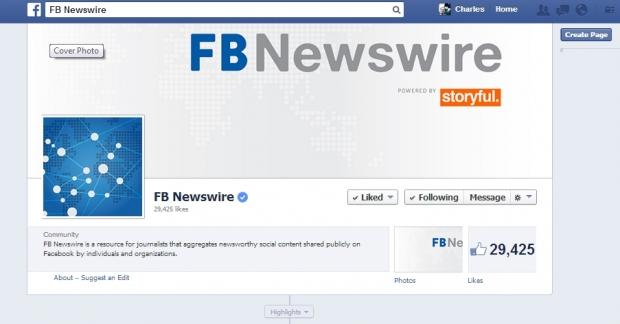 FB Newswire is powered by Storyful, one of the leading social content discovery services. The new service aggregates news content that has been shared publicly on Facebook originating from individuals and organizations from around the world. Facebook says that it has designed FB Newswire for Journalist and individuals in an effort to make the hot topics and trending news better accessible. As a long-time tech journalist, I can attest to how big of a role Facebook plays in story discovery, and will definitely put this new service to use.
"In Storyful, we're excited to have found a partner with a track record of understanding both the potential of the social web as a key resource for media as well as the tools that newsrooms need to utilize it. We're confident that their news expertise and best-in-class editorial team will help make it even easier for journalists to use compelling social content from Facebook in their newsgathering and reporting," Facebook said in a release. "News is finding a bigger audience on Facebook than ever before. Journalists and media organizations have become an integral part of Facebook, which is visible in features like Trending Topics, improvements to Pages, and recent changes to News Feed. Publishers are seeing the results of our commitment, with referral traffic from Facebook to media sites growing more than 4x in 2013, and we're excited to deepen our relationship with media organizations and journalists in the days to come."