AMD's Athlon and Sempron lines are back and now in APU form. This morning AMD announced the launch of its new quad-core and dual-core Kabini APUs, and the new Socket AM1 platform. Kabini brings back the legendary Athlon and Sempron brands and pairs them up with AMD's award-winning Graphics Core Next architecture and Jaguar CPU cores to form a flexible and powerful APU platform.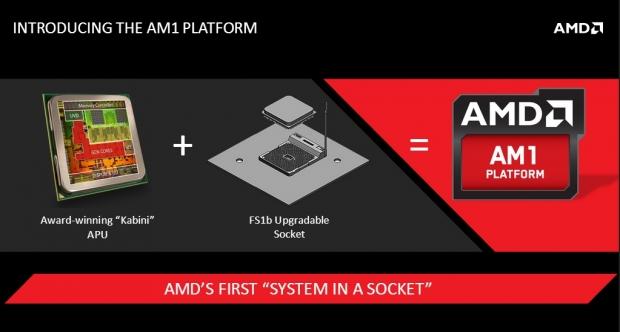 "AMD consistently builds on its industry leading technology by continuing to offer a diversified product stack which is proven today with the availability ofthe AM1 platform with "sockete" Sempron and Athlon APUs designed for the mainstream market," said Bernd Lienhard, corporate vice president and general manager, Client Business Unit, AMD. "With quad-core performance and AMD Radeon graphics the AM1 platform is an affordable solution that provides great flexibility due to an infrastructure built to deliver a multitude of options to our end users and system builders."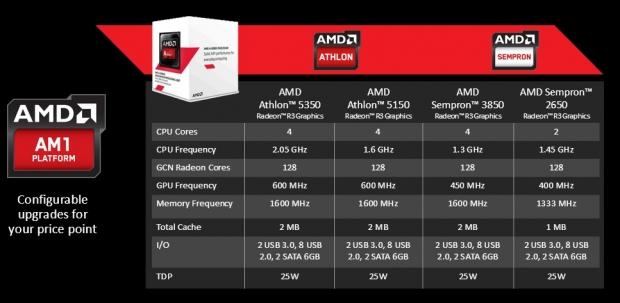 The new quad-core Athlon 5150 and 5350 APUs feature a 25W TDP and feature a 2.05GHz and 1.6GHz CPU clock respectively. Both Athlon APUs feature Radeon R3 graphics with 128 GCN cores each which is clocked at 600MHz with a 1600MHz memory clock. Each Athlon APU is capable of supporting two USB 3.0, 8 USB 2.0, and 2 SATA 6GB/s ports. MSRP on the Athlon 5350 is set at $59 while the 5150 will retail for $49.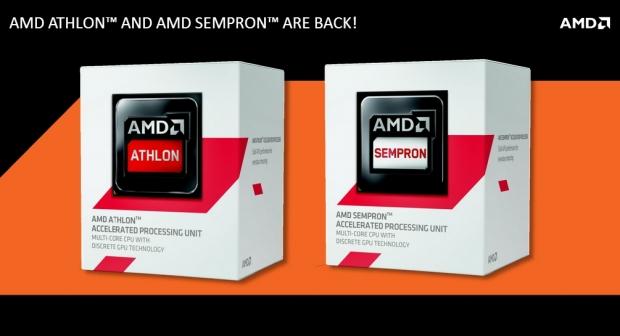 The Sempron 3850 and 2650 APUs are slightly less powerful with the 3850 featuring four cores while the 2650 only houses two. The Sempron 3850 is clocked at 1.3GHz and its 128 GCN cores feature a 450MHz core clock and 1600MHz Memory frequency. The Sempron 2650 is clocked at 1.45GHz and only has a 400MHz GPU clock and 1333MHz GPU clock. Both Sempron APUs feature the same USB and SATA capability as the Athlon line, and the Athlon 5350 / 5150 and Sempron 3850 have 2MB of total cache. The Sempron 2650 only boast 1MB of total cache. The Sempron 3850 and 2650 retail for $39 and $34 respectively.
"AMD Athlonâ"¢ and AMD Sempronâ"¢ deliver a quad-core solution to consumers that includes two SATA 6 Gbps ports, two USB 3.0 ports, eight USB 2.0 ports, PCIe 2.0 lanes for video card upgrades, and a trio of video outputs (DisplayPort, HDMI, and VGA) for under $40," AMD said in a release. "The AMD AM1 platform provides up to 3x more compute performance than its competitors, as well as balanced computing with DirectX 11.2 and Windows 8.1 support to mainstream markets."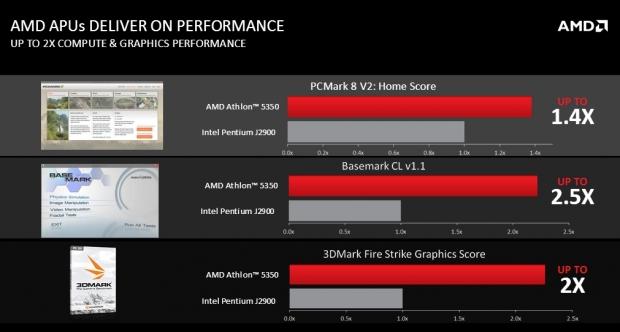 AMD says that the new Athlon 5350 APU beats out Intel's Pentium J2900 in every test it has thrown at it. In PCMark 8 V2: Home Score, the Athlon APU outperformed the Pentium by a wide margin, and the same results held out for Basemark CL v1.1, and 3DMark FireStrike. Additionally, the Athlon 5303 bested the Pentium J2900 in Winrar 5.01 Benchmark, TRUECRYPT: AES Mean Average, and Peacekeeper HTML5 / Web Benchmark.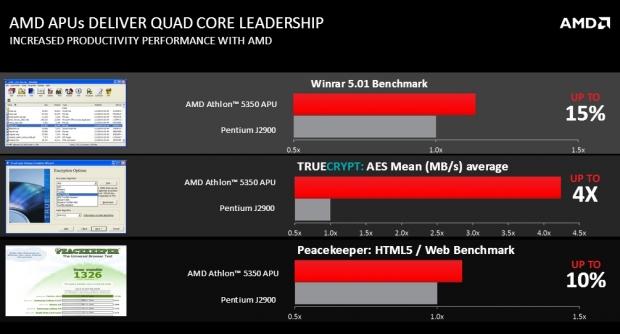 Finally, the AMD Athlon 5350 with Radeon R3 graphics managed to outperform the Celeron G1601 with the NV G210 Graphics Adder by a wide margin as well. Performance in Lego Marvel SuperHeroes, Bastion, Minecraft, and Guacmelee on high and max settings improved greatly.