DICE unveils new Loadout Presets for Battlefield 4
Electronic Arts and DICE have just unveiled a new Loadout Preset feature in Battlefield 4, that allows users to quickly select deadly loadout combinations.
Published Mon, Apr 7 2014 7:26 PM CDT
|
Updated Tue, Nov 3 2020 12:17 PM CST
Every map and game-type in Battlefield 4 has a different loadout requirement depending on which class you plan to play. For instance, if you were heading into a Conquest Large battle and chose Assault as your class, you might set yourself up with the M416 with an ACOG Scope, Canted Iron Sights, Heavy barrel, Angled Grip and a grassy paint job. You might opt for a 44 Magnum with the 3X scope, the Medic bag, Defibrillator paddles, and camo that matches the map. However, your Assault loadout would be completely different for a map like Metro, so you would have to change it all when the map rotated.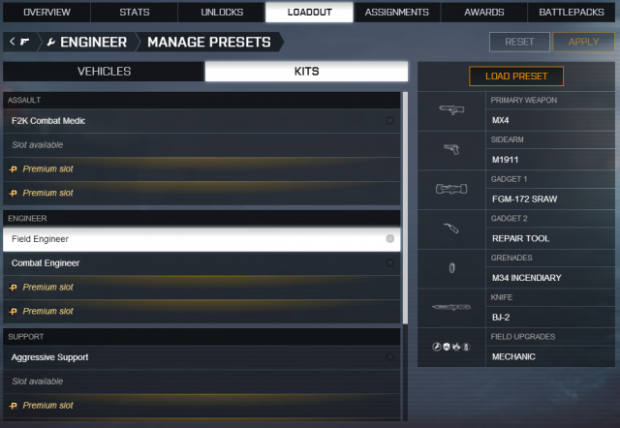 DICE knows what a pain the rear this can be, and today they announced a new feature that will ease some of the pain. Tomorrow a new Loadout Preset feature will be installed to Battlelog that will allow players to create and save up to two different preset slots per class with their favorite loadout mashups. Premium players will be able to save 4 slots per class, making this a very useful and appreciated feature for those of us who play hours of Battlefield every night.
"Going into battle prepared is key to succeeding in Battlefield 4. With the new Loadout Presets, we've made it easier for you to quickly hit the Battlefield with the exact kit and vehicle Loadout of your choice," DICE said in a blog post.
Preset Loadout's can be accessed and changed through Battlelog an on Mobile devices via the Battlelog app. Players need to simply head to the Presets Management page, accessible by clicking "Manage" from the Presets dropdown, you'll get an overview of all the Presets you have created. Here, you can browse through your Presets, delete them, or apply a bunch of them before you save your Loadout.
Related Tags