Samsung has announced a new streaming music service is has dubbed Milk, something the company worked with Slacker to develop, with the service launching with around 200 radio stations, and over 13 million songs available.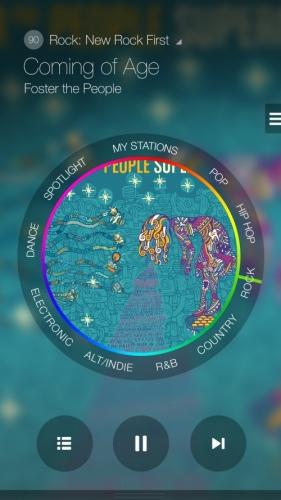 It's quite unique, with a circular dial that is similar to analog radio dials, where you just slide your finger around the dial to "tune in" to various genres of music. Once you've found a station that you like, simply run your finger along the inside of the dial to choose difference channels within that genre.
Competing streaming music services aren't all that intuitive, so it's refreshing to see Samsung thinking outside of the box with Milk Music. Samsung's Ryan Bidan has said that there is a group of consumers that haven't dived into the mobile music market because current services are simply too hard to understand, with people not liking advertising with what consumers have used so far.
Samsung's Milk Music will be made available for the Galaxy S III, S4, Note II and Note 3, the Galaxy Mega, Galaxy S4 Mini and the Galaxy S5 when it arrives on April 11. The app is available through Google Play, but the South Korean giant is thinking about pushing it out to other devices, too.