Spritz wants to see you reading at 1,000 words per minute
A startup company wants to see you reading way faster than you do right now, up to 1,000 words per minute.

Published Sat, Mar 1 2014 5:34 AM CST
|
Updated Tue, Nov 3 2020 12:18 PM CST
I can type much quicker than I read, so anything that helps me read faster, is great. Spritz, a Boston-based startup, is working on an incredible text streaming technology, that will see people reading pages of text much faster than they've ever previously thought possible.
The way this is possible, is that Spritz has crafted a technology that stops you from you having your eyes moving from word to word, by removing the page altogether. With Spritz, all you need is 13 characters to show all of your content, with fast streaming coming in and changing this all up. Spritz's technology is capable of being pushed into photos, maps, videos, and websites for much faster, more effective communication.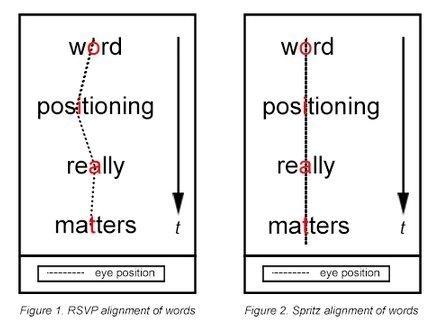 The way Spritz does this is instead of you reading in a line, it has the words appear in front of you, positioned much differently - something the startup calls the "Optimal Recognition Point", or ORP. The ORP is the "fixation point" which stays still, while the words flash through it. ORP is displayed in red, which saves a lot of recognition time in your brain when reading.
Most people have their eyes skip from word to word, but in reality you spend around 20% of that time processing whatever content you're reading. The remaining 80% of the time is spent looking for that fixation point, which has some people skipping shorter words. Spritz does this radically different with ORP, as it doesn't change. This allows you to both read, and process the content without your eyes moving from the fixation point. It allows words to change much, much quicker, but you are reading them without skipping words.
Spritz will be making its technology available to the Galaxy S5 and Gear 2 from Samsung, but the startup has a goal of having 15% of the world's textual content read through Spritz by 2016.
Related Tags