CES 2014 - GIGABYTE's marketing director, Colin Brix, took a few moments to walk us through the company's new Brix devices. Up first is the new Brix Pro which features Intel's new Iris Pro Integrated Graphics, and is powerful enough to even run Battlefield 4. The Brix Pro is also Gigabytes official entry into the Steam Machine arena and is Valve approved.
We were also shown a Brix device that is coming out this year that features discrete graphics for more GPU processing power. The unnamed device features both Intel Haswell and AMD processors and will have support for NVIDIA GPUs at a later date. GIGABYTE says that the unnamed device will be perfect for LAN parties, or anywhere you need desktop performance in a small, ultra-portable package.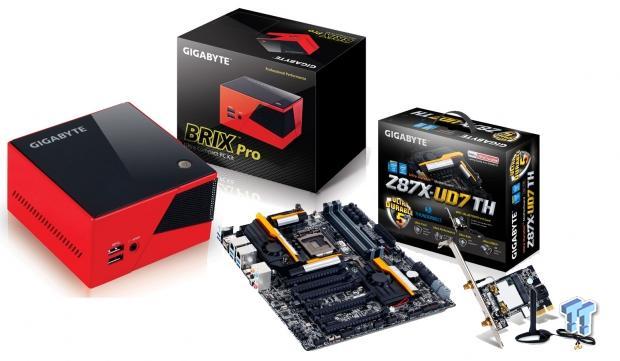 The last Brix device we got a chance to check out is the new Brix NAS device which is code named Brix MAXX. The device has room for up to four 2.5-inch HDDs or SSDs, and is being billed as a home-sized personal cloud storage device. The Brix NAS supports SMBA, DLNA, as well as other server configurations, and features several RAID features. The Brix NAS is the first Brix device to run Android as its main OS, and features apps for your mobile devices for quick file syncing.
Finally, we were shown GIGABYTE's new Z87x-UD7 th motherboard which features Intel's new Thunderbolt 2 technology. The UD7 board features four-way crossfire, multiple overclocking features, as well as other features you expect to find on GIGABYTE's high-end Z87 motherboards. No pricing information was given on any of the new Brix devices or the Z87x-UD7 th at the time of filming.