We demo Lenovo's 27-inch Horizon 2 table pc / tablet
Lenovo's new 27-inch Horizon 2 table top PC doubles as a monster sized Windows 8.1 tablet.
Published Fri, Jan 10 2014 10:19 AM CST
|
Updated Tue, Nov 3 2020 12:19 PM CST
CES 2014 - During our visit with Lenovo, we got the chance to check out one of the coolest pieces of PC tech on display at CES. The Lenovo Horizon 2 is a 27-inch monster-sized tablet that when paired up with an optional stand, becomes what Lenovo is calling a Table PC.
As you can see in the video, the Horizon features a screen with either a 1920 x 1080 resolution, or a 2560 x 1440 resolution depending on the customer's budget, but unfortunately the stand will have to be purchased separately. The tablet / table PC runs on an Intel Core i7, NVIDIA graphics, and a battery large enough to keep the device running for 4 hours of continuous use. As you can see in the video, things like image manipulation, gaming, and everything else is quite fun on the device! Lenovo says that the Horizon 2 retails for $1499 and will hit shelves in June.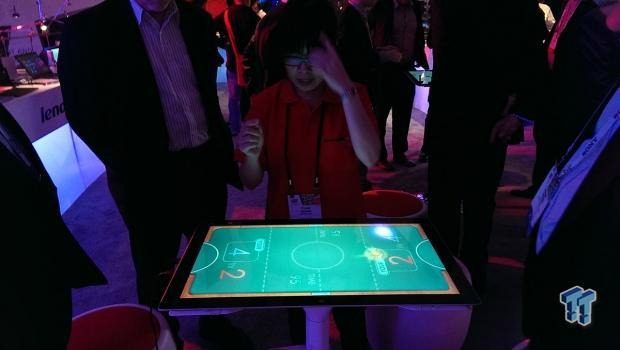 Related Tags