OCZ unveils its fastest and largest enterprise SATA III SSD to date
OCZ launches its latest enterprise SSD lineup, said to be the company's fastest ever.
Published Fri, Dec 13 2013 9:00 AM CST
|
Updated Tue, Nov 3 2020 12:19 PM CST
Today OCZ announced the launch of its next-generation Intrepid 3000 Series Enterprise Class Solid State Drives. OCZ says that the new line of SSD's provide the industry's best sustained performance and consistent I/O responses available. Supporting storage capacities up to 800GB, Intrepid 3 represents OCZ's highest performing and largest capacity enterprise SATA SSDs to date.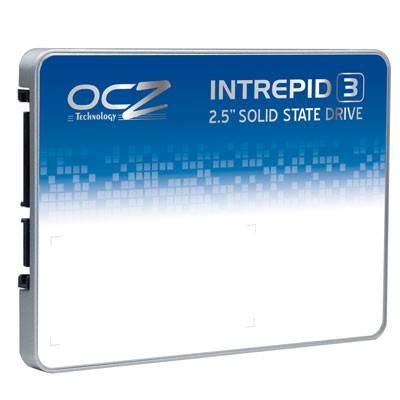 The new line of SSD's feature the Everest 2 Platform, a mash-up of Marvell's 88SS9187 controller, and OCZ's proprietary firmware, the Intrepid 3000 series is capable of sequential read speeds of 520MB/s and sequential write speeds of 470MB/s. Input/Output operations per second equate to 91,000 for random reads of 4K blocks, and 40,000 IOPS for random writes of 4K blocks.
"Our new Intrepid 3000 Series leverages in-house firmware with an impressive enterprise feature-set to enable customers with unprecedented performance, data management, endurance and reliability, and cost flexibility resulting in an optimal storage environment," said Daryl Lang, SVP of Product Management for OCZ Technology. "Delivering exceptional SSD responsiveness in even the most demanding and compute-intensive applications, the Intrepid 3000 Series achieves unsurpassed performance under any workload, regardless of data type and I/O pattern for the complete spectrum of applications including online archiving, media streaming and web browsing OLTP, VDI, email and analytics."
Key features include:
Strong multi-level BCH error correction coding (ECC) that effectively corrects errors up to 85 bits per 2Kb of data while significantly reducing the uncorrectable bit error rate (UBER);

End-to-end data path protection that performs data integrity checks at every juncture where data is transmitted, received, processed and stored ensuring that corrupted data is detected and not propagated;

In-flight data protection that prevents data loss in the event of a sudden power failure guaranteeing that the in-progress write operations complete and data is properly stored in SSD flash;

Internal SSD RAID redundancy provides additional safeguards to supplement traditional ECC algorithms, and further reduce uncorrectable bit error rates;

Lower write amplification by concatenating multiple write requests from the host while minimizing wasteful copy back operations of unaffected data sectors;

256-bit AES encryption compliance for data security (encrypting data in large 256-bit key sizes); and

Additional flash management techniques such as dynamic and static wear-leveling, background garbage collection, TRIM support and system/storage monitoring via Self-Monitoring Analysis & Reporting Technology (SMART).
Related Tags