Earlier today, I reported on OCZ's stock taking a nosedive earlier today which saw the stock dip by almost 40-percent. While company stocks rising and falling is the nature of the stock exchange, it is quite unusual for a company to not release a statement in times of extreme fluctuations such as what OCZ saw today, and we are left wondering what is going on.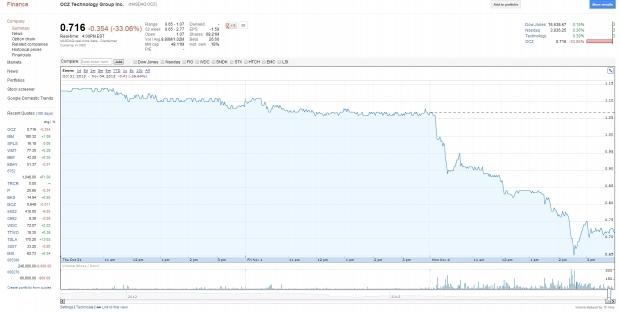 "OCZ has been dogged by liquidity/solvency fears for some time. The company ended its August quarter with just $10.6m in cash, in spite of raising $13.1M during the quarter. It has also declined to provide November quarter guidance, citing "uncertainties in being able to procure forecasted flash amounts and credit constraints," read an email alert from investor advisement website, Seeking Alpha.
While it is still unclear what is going on, we do know that OCZ is in the midst of major financial troubles and todays dip represents a new 52 week low for the SSD manufacturer. The dip down to $0.65 per share equates to more than 6x OCZ's daily average and the only thing I see happening from this is the company filing bankruptcy within the next week or two. I have dispatched an email to OCZ requesting a comment on today's market decline and have yet to receive a reply, I will update this post if and when more information comes in.