Today, HighPoint launched the RocketU 1144E, a new 4-port HBA that it says is the most versatile storage HBA in the industry today. The new RocketU 1144E features USB 3.0 and 6Gb/s eSATA connectivity and uncompromised per-port architecture. HighPoint says that the new device is designed for PC and Mac platforms and is the perfect solution for external eSATA and USB 3.0 storage.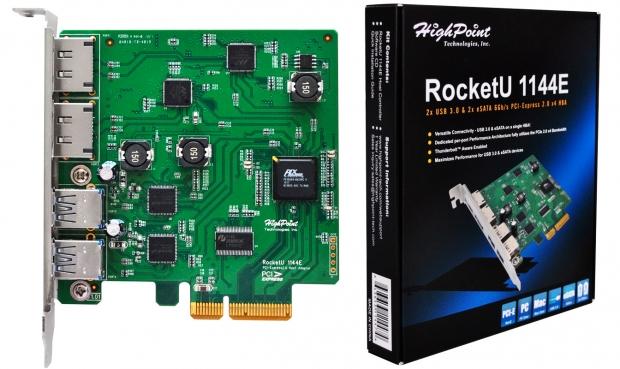 HighPoint says that the RocketU 1144E benefits from the company's per-port architecture, which gives it an exclusive advantage over other HBAs on the market. With this technology, each port remains fully independant and is powered by a dedicated 5Gb/s USB 3.0 or 6Gb/s SATA controller. Additionally, the inclusion of a PCIe 2.0 x4 host interface ensures that customers experience nothing but the highest level of performance from this new 4-port HBA.
HighPoint says that the new RocketU 1144E is capable of supporting all of the industry standard USB and SATA storage devices and is compatible with Windows Server 2012, Windows 8, Windows 7, and Mac OSX 10.8.3 or later. Linux support is also available and drivers can be downloaded from the company's website.