Earlier today, I reported on a fire that took place at a Hynix DRAM facility in China. As the day has progressed, more information has come in about the fire, but not much else is known about where in the facility the fire actually took place. Some sources are reporting that the fire took place in a chemical storage warehouse, while others are reporting that the actual manufacturing facility where the silicon is fabricated was consumed in the fire.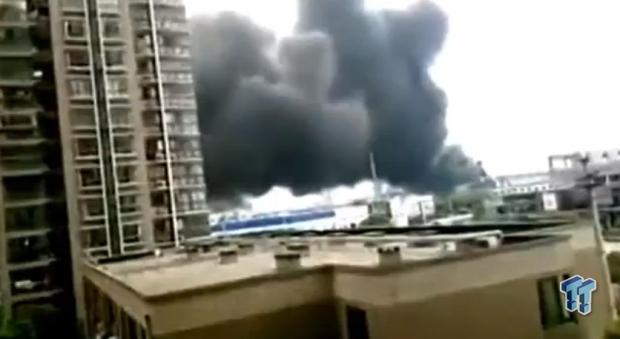 When news of the fire broke, I reached out to Jim Handy of Objective Analysis and asked for his thoughts on the impact the fire may have on the tech industry as a whole. Handy then issued a statement that says that until the full details of the fire are released, and we know for a fact what role the plant had in the manufacturing process, no speculation can be given on what the full impact may be. I have copied Jim's full alert below.
Extent of Damage Not Yet Released

A fire erupted today in the SK hynix Wuxi, China, manufacturing complex. Although Hynix has not issued a press release, news sources report that the company, in interviews, explained that production has been suspended at a facility that produces 40% of the company's DRAM. The fire lasted from 3:50-5:20 PM China Time. The company has provided few other specifics, and has not reported whether there are any casualties or other information about the extent of the incident.

The photograph at the left above was copied from a YouTube video of a Korean newscast about the fire. Since few details have been released by Hynix, Objective Analysis can note the significant size of the fire, but can only guess at its importance. News sources are in broad disagreement about the details. If the fire burned on the chemical pad, where inventories of chemicals are stored, there should be little impact on the company's ability to ship. If it was in a packaging plant, as some sources report, SK hynix will need to scramble to find alternatives, but its shipments might only be restricted for a couple of weeks. If the fire of this magnitude occurred within one of the company's clean rooms 2-3 quarters could elapse before it is able to re-establish its prior shipping volume.

Will this Create a Shortage?

In a word: Yes! A historical precedent will help to explain.

There are strong similarities between this incident an another fire in 1993. In July of that year a fire and explosion in a Sumitomo Chemical plant removed over 90% of the world's supply of a certain epoxy that was almost universally used to attach DRAM dice to their packages. The impact of this event was to galvanize a DRAM shortage that was already developing at that time. The shortage lasted until the end of 1995, longer than any shortage in the history of the DRAM market.

The duration of that shortage was not the result of the fire - other factors were at play. Still, the industry very quickly transitioned from the mild onset of a shortage to a very solid shortage as a a result of the incident, even though abundant alternatives to Sumitomo's epoxy were identified within a week.

Today the DRAM business and NAND flash, the two products that Hynix manufacturers, are entering a shortage that Objective Analysis predicts to last until the middle of 2015. It is reasonable to expect for today's fire to have a very similar impact, driving the industry from a mild shortage to an significant one. Objective Analysis is advising its purchasing clients to finalize any plans for long-term supply agreements as soon as possible to prevent any avoidable deficits.

We warn that our clients and others impacted by this event need to be skeptical about the various reports that are popping up about this incident. Little concrete news has been reported, and there is already a significant amount of disinformation online, with various sources in great disagreement about the details. We plan to keep on top of this story to assure that our clients receive only the most accurate information to allow them the opportunity to make good choices.

Objective Analysis specializes in the NAND flash, DRAM, MCU, and SSD markets, and provides our clients with strategic planning and forecasts to help guide their businesses. If your company needs a competitive edge, please contact us to learn what Objective Analysis can do for you.