Have you ever ordered a paperback or hardcover book from Amazon and wished that you could get the digital copy for your Kindle in the same purchase at a discounted price? If so, an announcement today is sure to make you quite happy. Amazon today announced a new initiative called Kindle Matchbook that will allow customers to include the Kindle edition of physical books in with their order at a highly discounted price.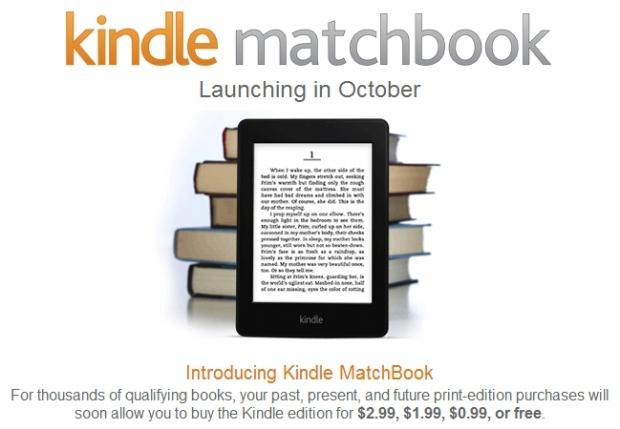 Customers will now be able to pick up the Kindle edition of their book for $2.99, $1.99, $0.99, or for free anytime they purchase the physical copy of the book. Amazon has made this feature retroactive as well, and any books you have purchased since Amazon first opened its online bookstore now qualify for this deal. This means that you can go back through your Amazon purchase history and pick up the Kindle edition of your favorite books at a highly discounted price.
"If you logged onto your CompuServe account during the Clinton administration and bought a book like Men Are from Mars, Women Are from Venus from Amazon, Kindle MatchBook now makes it possible for that purchase-18 years later-to be added to your Kindle library at a very low cost," said Russ Grandinetti, Vice President of Kindle Content. "In addition to being a great new benefit for customers, this is an easy choice for publishers and authors who will now be able to earn more from each book they publish."
At the moment, Amazon says that over 10,000 books have been enrolled in the Kindle MatchBook program, with new publishers, authors, and content creators signing up every day. . "It's simple, brilliant, and good for everybody," said best-selling author Marcus Sakey. "I love to have print books on my shelf, but I love reading my Kindle on the go, and there are plenty of titles I'd like both ways. It's ridiculous to ask readers to pay full retail twice for the same book."