We heard about Intel allowing 'overclocking' on its SSDs, but now we have a little more proof. The chipmaker was showing off some SSD overclocking to PAX attendees, but Legit Reviews thinks that Intel will release a 'K' series SKU of SSDs that would be overclockable.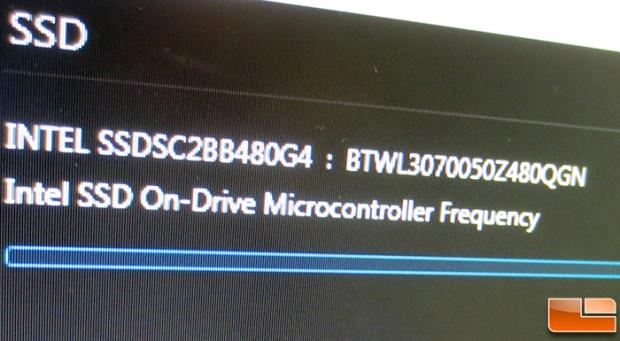 This would fall in line with Intel's current K series of processors, such as the Core i7-4770K, which can be overclocked. If Intel do indeed unleash a K series of SSDs, the chipmaker would unlock the 'dials' on the SSD which would give users the ability to increase clock speeds on the controller frequency as well as the NAND flash memory bus frequency.
Intel has already added overclocking features to their Intel Extreme Tuning Utility, or XTU. The drive Intel were using at PAX was a prototype SSD made for overclocking, so we're not talking about anything official right now. So, let's get into what it can do, at the moment, and what people saw at PAX.
The first setting you can use is the adjustment of the controller clock speed, with the default speed on the Intel Prototype SSD controller set at 400MHz, with Intel's XTU software capable of driving this up to 625MHz. This doesn't sound like a lot, but it represents a swift 56.25% increase in the controller speed.
The second option is to adjust the speed of the NAND chips, with the stock clocks set at 83MHz, the XTU software can crank this up to 100MHz. Legit Reviews has some quick benchmark results, if you want to see some raw, but early numbers.