In an expansive investor call yesterday Micron inadvertently revealed a new SSD and controller combo that will sport the NVMe interface during the question and answer session. This is important news, as Micron has previously relied upon third party controllers and a jointly-developed controller with IDT for the P320h. When asked about the possibility of utilizing NVMe in future products, Edward Donner replied:
Absolutely, so NVMe is an interface that we absolutely plan on supporting, in fact that 520 drive that I probably pre announced and I'm sure I'm going to get some interesting e-mail on that, is an NVMe drive; it's a controller like the controller on the P320 the P420 that we've internally developed at Micron. It's a heavy hardware based controller and once again we'll be able to saturate the PCIe 3 interface and differentiate with again a internally developed controller but yes NVMe is critical to us and you'll see product level details in the near future.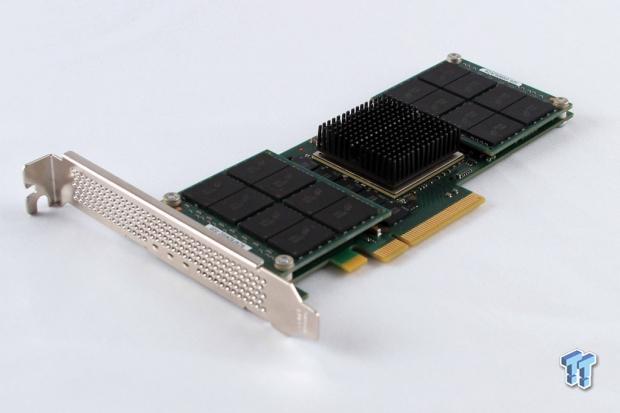 The 520 will be able to saturate the PCIe 3.0 interface, and might come in the traditional PCIe SSD HHHL form factor and possibly even a 2.5" drive as we have seen with the P320h. The importance of the development of a Micron controller is significant. The SSD market is beginning to consolidate, and those who own a fab or controller IP enjoy a significant advantage. Having both the NAND and controller will provide Micron with even more of an advantage against their competitors. Naturally, our next question would be whether this new controller will migrate to other products, such as the wildly popular consumer offerings from Crucial (the consumer arm of Micron). Luckily, this question was answered in a roundabout fashion during the Q&A session (emphasis added):
I can tell you that on the enterprise high performance market is that utilizes PCIe from the get go we made the decision to use an internal controller and so we've been happy with that and the progress that we've made with that controller and the solution. [B]I can tell you going forward on our fast drive we will be using our own internal controller for those products[B]. And so as we roll out the next version of our fast drive it will have an internally developed Micron controller which will - is more than a single instance of a controller, [B]it's a platform that allows us to have a common firmware base that will allow us to have different transport layers that will give us the ability to move rapidly in terms of building on an investment and a foundation of a platform.[/B]
Micron's new internally developed controller is being developed as a platform for rapid expansion into other areas. This type of modular controller structure is important to create a flexible base for multiple product stacks. Intel and others employ this type of structure to allow multiple products to utilize the same controller. While some manufacturers stick entirely with their own proprietary solutions, others will utilize multiple vendors if the need arises. Micron answers this question handily:
...but I would say our strategy going forward certainly on the bottom tier or two is to have a dual pronged approach where we use internal controllers where it makes sense and we use external controllers where it makes sense.
Micron also touts the advantages of vertical integration when developing their own controller technology:
...and by the way you got to remember that when you're designing a controller for the enterprise, the cycle time to design that controller is such that not only do you need to have the knowledge of the NAND technology that you're shipping today you better know what that NAND technology is going to look like three years from now because that's about the cycle time of a good enterprise controller you better know what that is otherwise you're going design a controller that's not going to be in line with where the technology is going, and so that concept of vertical integration where you understand, you understand the fundamental technology the timeline of where the technology is heading coupling that with your own internal controllers it almost guarantees if you do it right that you're going to do a better job than anybody that doesn't have that knowledge.
Micron's significant advantage of owning their own Fab pays off in multiple aspects, from the firmware interaction with the NAND to the design and engineering of new controllers. The quest for their own controller technology is a big step for Micron, and one that will be sure to provide a long-term benefit to the company.
Micron is bucking the trend by developing their own controller in-house. Many of Micron's competitors have invested heavily in controller technology by purchasing other companies, building the controller from the ground up has its own advantages, particularly in time to market and cohesion with existing products. In many cases, acquisitions can take a significant period to bear fruit for the purchasing company.
The news of Microns new controller technology is also very welcome considering that they collaborated with IDT for the controller utilized on the current P320h product. This controller provides Micron with the fastest PCIe SSD on the planet, but with IDT's recent acquisition by PMC Sierra we wouldn't be surprised to see PMC Sierra take future IDT controllers off the market to focus on proprietary controllers.
Overall, the forecast for the NAND and SSD market for Micron is exceedingly bright.
Transcript from Seeking Alpha, and the full call is available on Microns website at Micron.com