RumorTT: Microsoft poised to shut down Technet August 31
Microsoft to pull the plug on TechNet this August 31st.
Published Mon, Jul 1 2013 4:48 PM CDT
|
Updated Tue, Nov 3 2020 12:22 PM CST
Since 1998, Microsoft has offered the highly praised TechNet subscription service to IT professionals and developers. For a nominal fee, professionals were given access to the entire catalog of Microsoft software which greatly aided in development and system administration. Today, Microsoft announced in a letter to its subscribers that it will retire its TechNet subscription service effective August 31, 2013, the date in which all current subscribers' contracts end.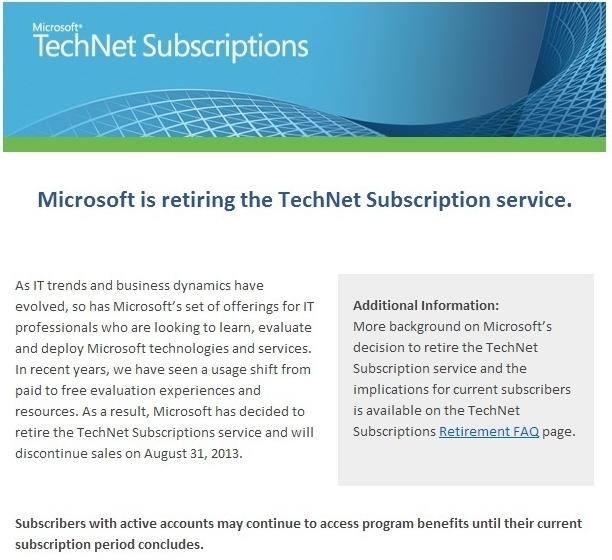 The service was also used by PC enthusiasts worldwide as it offered a cheap way to get access to Microsoft software that otherwise cost thousands of dollars. This led to enthusiasts activating enterprise-level software and consumer-level operating systems and software that were normally meant for "evaluation use only." Unfortunately, this also led to a rise in piracy of Windows software. Pirates figured out that they could subscribe to TechNet and sell the keys along with ISO files downloaded from the site at prices that were always too good to be true.
Microsoft has repeatedly tried to tighten the clamp on piracy by cutting the available keys to TechNet subscribers back in 2010 and then doing the same thing two years later. Fortunately, Microsoft is not leaving its subscribers out in the rain as it will offer current subscribers the option to renew their subscription for one additional year after the shutdown in August. Check out source #2 below for the full announcement from Microsoft.
In the statement Microsoft said:
New subscriptions won't be accepted after August 31, 2013. Newly purchased subscriptions must be activated by September 30, 2013.

Current subscribers will still receive subscription benefits until their current contract ends. For most retail customers, subscribers are limited to a single year.

Existing subscriptions that expire on or before September 30, 2013 may be renewed for one year. Renewals may be purchased until August 31, 2013.

Subscribers with active Microsoft Certified Trainer accounts may continue to access their program benefits until March 31, 2014.

MVPs will continue to receive the option for a free Visual Studio Premium with MSDN subscription.
Related Tags