If your Xbox One gets banned, you lose the licenses to all of your games, too
Microsoft continue to dig their own grave with the Xbox One.

Published Sat, Jun 15 2013 3:27 AM CDT
|
Updated Tue, Nov 3 2020 12:22 PM CST
Microsoft have just dug a few more inches of their own grave for the Xbox One by stating that if you get banned from Xbox Live on the new Xbox One, you'll also "forfeit the licenses to any games that have licenses tired to it as listed in the ToU."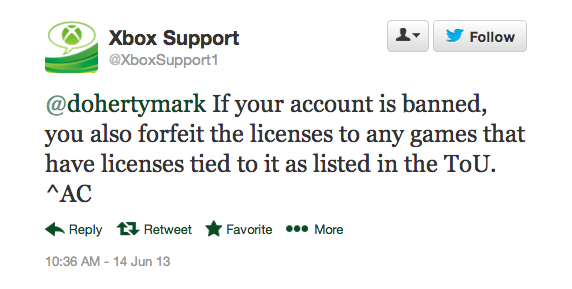 This means that if you get banned, you're pretty much handing over your physical discs to Microsoft. Of course, not everyone gets banned - but this is actually quite serious as you're having physical media get banned from the XBL service altogether. Microsoft, whatever you're smoking, you could make more money selling that than you will with the Xbox One.
Related Tags