Computex Taipei 2013 - Supermicro had a beast of a SuperStorage Server on display at Computex 2013, with support for up to 24 x 2.5" drives, which could either be the latest and greatest 10 and 15K HDDs, or SSDs, including the new breed of 12Gb/s SSDs on the market.
From the top, we can see the three 12Gb/s controllers for the HDD bays. We typically expect rebranded HBA's and RAID controllers for large OEM suppliers, but the origin of these controllers is unclear.
Supermicro was not forthcoming with many details, including the ROC utilized in these builds. These controllers look to be a custom design with large capacitors to the end of the board.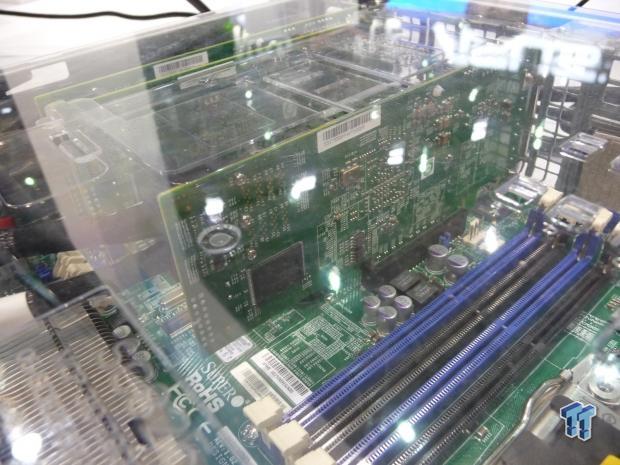 The HD-MiniSAS ports and connections allow for greater density in smaller form factors for ease of deployment. These cards were under load, with one providing sequential throughput of 6.9 GB/s at the show.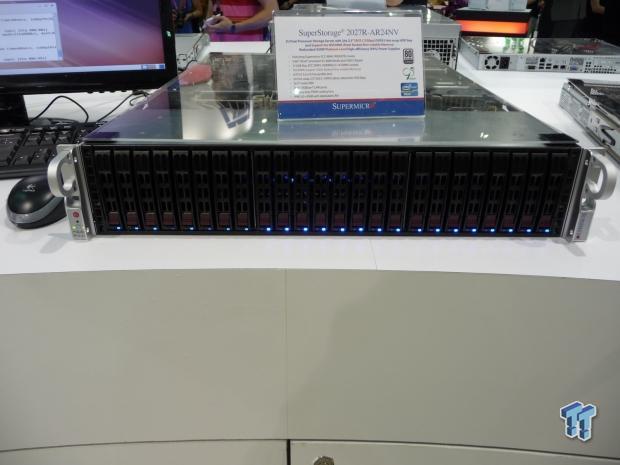 The front of the 2U server holds 24 drive bays for maximum storage density.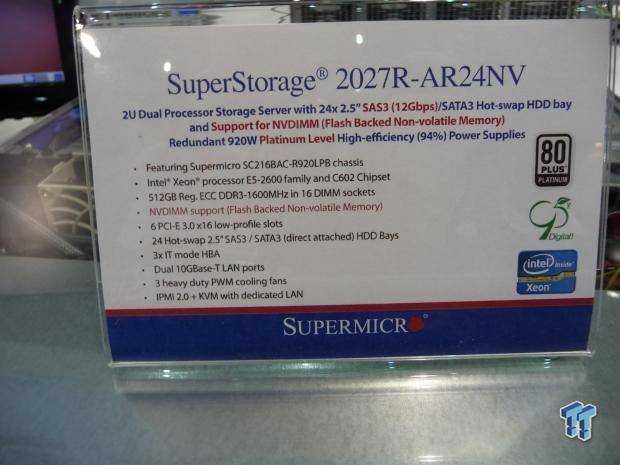 Drilling down on the specs we see that there is support for the new NVDIMMs that is becoming a large part of Supermicro's server platforms moving forward. This advanced DIMM technology provides a tremendous amount of persistent DRAM storage that operates at speeds and provides superior latency unmatched by any other storage solution.
There is also an impressive 6 PCI-e 3.0 slots and dual 10GBe ports.
The collaboration with Viking and their NVDIMM tech, along with the inclusion of these new 12Gb/s controllers will provide a superior solution with extreme storage performance on tap, with both existing HDDs, SSDs, and NVDIMMS. We love to think of being able to cram multiple tiers of high-performance storage into one slim package; the possibilities with this platform seem to be almost endless for such a small 2U chassis.