NVIDIA is set to release their next-generation GPUs in the form of the 700-series next month, with some sources stating that you can flash your GeForce GTX 680 to a GeForce GTX 770 with a BIOS flash.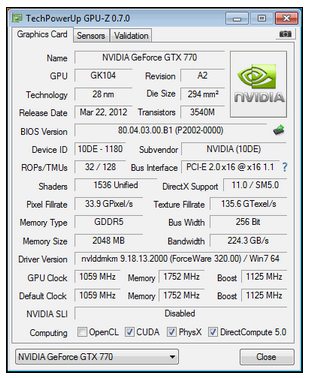 If this is true, this means that the GTX 770 is going to be a simple rebrand of the current GTX 680, but we should be used to this by now. There's a post on Reddit with someone saying that they've uploaded a BIOS (.bin) file and the required driver information (.inf) file which will have a GTX 680 owner get a GTX 770 card, all for nothing. The post states: "The upcoming GTX 770 is a GTX 680 in disguise. NVIDIA has gently revised the GK104 architecture, mostly with process improvements, but the 770 is basically the same beast! Which is good for us enthusiasts".
But, don't get your hopes up just yet, as a post on TechPowerUp has said that the BIOS supplied to the Reddit user isn't a GTX 770 BIOS, but a "modified GTX 680 BIOS" that has increased clock speeds and the .inf file has been edited to change the card's descriptor string to 'GTX 770'.