Chrome and Chrome OS get Google Cloud Messaging
Google announces Google Cloud Messaging now available from Chrome apps.
Published Fri, May 10 2013 5:01 PM CDT
|
Updated Tue, Nov 3 2020 12:23 PM CST
Google has announced that Chrome and Chrome OS are getting Google Cloud Messaging. Cloud Messaging is Google's implementation of push notifications and allows notifications, updates, news, and other alerts to be sent to an app even when running in the background. It pushes the update rather than the app having to go out and check for updates.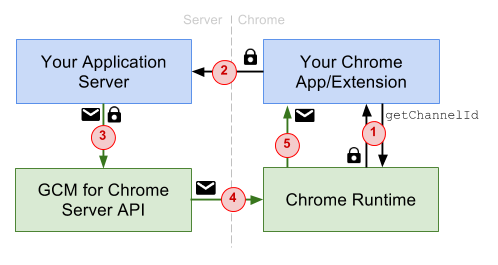 Push notifications are commonplace in the mobile app world. It looks like they are finally crossing the divide and will start showing up in Chrome apps.
Event pages keep apps and extensions efficient by allowing them to respond to a variety of events such as timers or navigation to a particular site, without having to remain running persistently. But what if you need to respond to something that occurs outside of Chrome, such as a news alert, a message sent to a user or a stock hitting a price threshold? Until now, you had to do this by repeatedly polling a server. This process consumed bandwidth and reduced the battery life of your users' machines. For a more efficient solution, starting today you can use Google Cloud Messaging for Chrome (GCM) - across all channels of Chrome.
One of the main benefits of push notifications is reduced battery life, as noted above in the quote from yesterday's announcement. You can expect that Chrome application developers will start to make use of this new service very quickly. Battery life of notebooks should increase as a result of developers switching over and I don't think anyone will complain about that.
Related Tags