Intel debuts Silvermont microarchitecture, features higher performance, lower power draw
Intel debuts new Silvermont microarchitecture that brings 3x performance increase, 5x power decrease.
Published Mon, May 6 2013 2:31 PM CDT
|
Updated Tue, Nov 3 2020 12:23 PM CST
Intel has announced the new Silvermont microarchitecture that, as you would expect, brings with it increased performance and decreased power draw. The new architecture will rely on Intel's 22nm Tri-Gate SoC process to realize these performance gains and power draw reductions.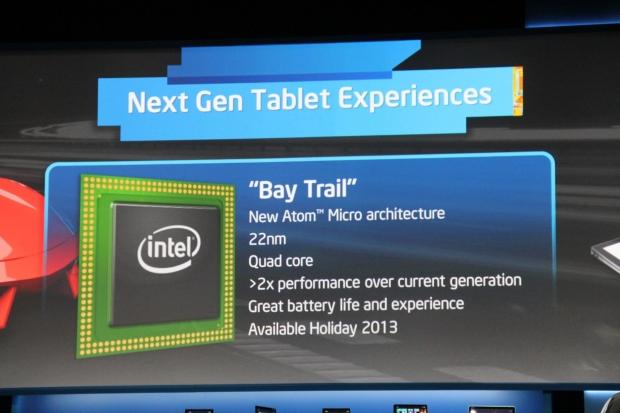 Silvermont is aimed at a wide variety of applications that need low-power CPU's. This means we should see Silvermont showing up in smartphones, tablets, and even datacenters once it is released. Silvermont offers up to three times the performance of current generation Atom processors while consuming five times less power.
A new out-of-order execution engine enables best-in-class, single-threaded performance.

A new multi-core and system fabric architecture scalable up to eight cores and enabling greater performance for higher bandwidth, lower latency and more efficient out-of-order support for a more balanced and responsive system.

New IA instructions and technologies bringing enhanced performance, virtualization and security management capabilities to support a wide range of products. These instructions build on Intel's existing support for 64-bit and the breadth of the IA software installed base.

Enhanced power management capabilities including a new intelligent burst technology, low- power C states and a wider dynamic range of operation taking advantage of Intel's 3-D transistors. Intel Burst Technology 2.0 support for single- and multi-core offers great responsiveness scaled for power efficiency.
Related Tags