Google has introduced a new tool that Facebook and other sites with lots of personal information should take note of. Called Inactive Account Manager, the new tool allows you to decide what to do with your data after your death or inability to access Google's services.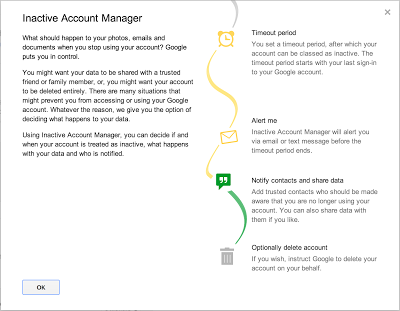 Like the name implies, the tool keeps track of how long it has been since you last logged in to a Google service. Once it passes a certain threshold set by each user, Google will either delete the data, allow someone else to access it, or something else. Before the inactive period time is up, Google will warn you with a text message and e-mail.
For example, you can choose to have your data deleted - after three, six, nine or 12 months of inactivity. Or you can select trusted contacts to receive data from some or all of the following services: +1s; Blogger; Contacts and Circles; Drive; Gmail; Google+ Profiles, Pages and Streams; Picasa Web Albums; Google Voice and YouTube. Before our systems take any action, we'll first warn you by sending a text message to your cellphone and email to the secondary address you've provided.
The Inactive Account Manager can be accessed via your Google Account settings page. I'll now patiently wait for Facebook to introduce a similar feature.