With no real competition in the server/workstation space, Intel aren't just rushing out their 2013 update to their Xeon platform of processors. Toward the end of this year, we should expect the Ivy Bridge-based Xeon E5 and E7 processors, while the Xeon Phi MIC/co-processor/accelerator gets segmented into more SKUs and thanks to a new stepping, we're seeing clock speeds pushed from 1.1GHz to 1.238GHz with nearly the same TDP and form factor.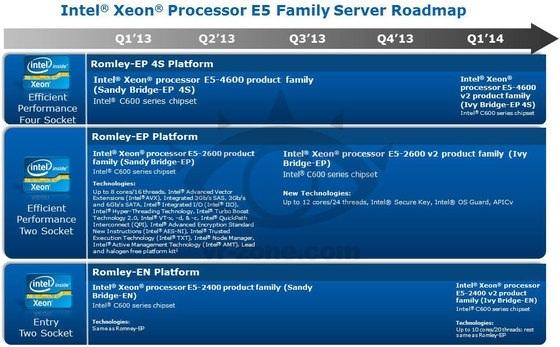 What we will see when the new Xeon processors arrive, is a 12-core part with 30MB of cache and quad-channel DDR3-1866 server memory paths per socket with clock speeds pushing 3GHz and Turbo Boost to boot. Power consumption on these insane 12-core processors should see a helping hand from its 22nm FinFet '3D transistor' process.
Toward the end of the year, we should expect the E5-4600 v2 series, which is the same as the above solution, but 4-socket-enabled where the dual QPI links make a square interconnection layout between the CPU. At around the same time, we should see the 15-core IVB-EX enterprise Xeon processors - the E7-4800 v2 and 8800 v2 - which will replace the Westmere-EX processors we have had for the past couple of years now.
These chips will have their clock speeds at around 2.4GHz, and their memory will be upgraded to DDR3-1600 with the chipset staying the same as the one we have now on the Romley dual Xeon platform, Patsburg. We should expect RAID TRIM support in OPROM arrive with these processors. These processors will have no unlocked multiplier SKU, so no overclocking here unfortunately.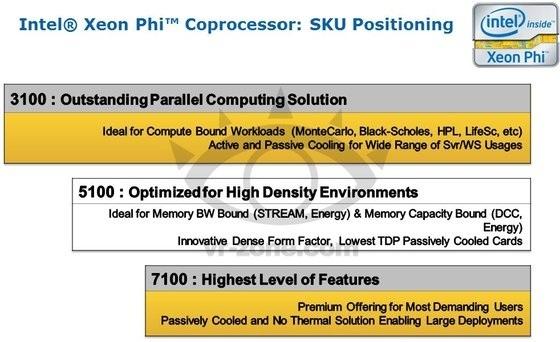 We all know of the HPC/BigData war that is going on between Intel and NVIDIA right now, with Intel's Xeon Phi co-processor set to really push the boundaries of our expectations. Intel's new Co stepping of Xeon Phi will have two new SKUs, operating at 1.238GHz with the same, and quite insane, 61 cores and 31MB cache. The 7120X and 7120P, which will be the no cooling and passive cooling respectively, should see 1.2 TFLOPs DP peak performance, and will stick to the same 8GB memory capacity and 512-bit memory path.
The GDDR5-5500 memory will continue cranking along still, the same as the 1.1GHz part, as well as the rated TDP of 300W. This will be a 22nm part, so we should see Intel squeeze a little more performance out of it before it steps out from behind the curtain later this year.