Motorola has confirmed that the Droid RAZR and Droid RAZR MAXX will be getting updated to Android 4.1 Jelly Bean. This update will allow these two devices to have access to Google Now, a feature that is being hailed as revolutionary. It makes sense that Motorola would want to update their devices to the latest Android as they are owned by Google.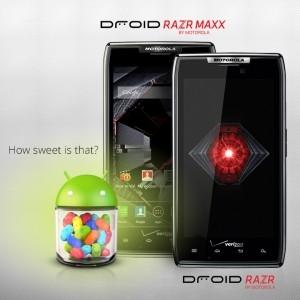 Google Now - We could all use a good planner to keep track of our busy lives. With Google Now you get notifications generated automatically and in real-time even before you ask. Now your DROID RAZR and DROID RAZR MAXX can deliver sports scores, stock updates, weather reports and traffic updates so you have all the information you want even before you've had your morning coffee.

Expanded Notifications - You should be able to call or text someone back right from your missed call notification. With Androidâ"¢ 4.1 Jelly Bean you have the ability to do that and more. When you get a reminder about a meeting you can either tap once to snooze or even email participants to say you're running late.

Voice Search - Ask a question and get back the answer you're looking for, ranging from "When is the next bus?" to "Where can I find a great Mexican restaurant?" You'll either get a spoken response back or search results that answer your query.
Like most over-the-air updates, this update will be rolled out in stages. If you don't have the update quite yet, don't worry as it will eventually roll out to your device. You can find out more information about the updates from Motorola's blog post.